News story
Secretary of State for Northern Ireland at community project in Harlem, New York City
The Secretary of State for Northern Ireland , Rt Hon Theresa Villiers MP, today visited a project in Harlem designed to build stronger communities through recreation and dance.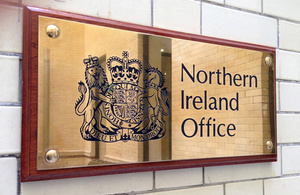 The project, called Dancing Classrooms, aims to transform lives "one step at a time" by building social awareness, confidence and self-esteem in children through the practice of social dance. The Secretary of State met the founder director of the project, Pierre Dulaine and Suzanne Kazszynski, Principal of the Dancing Classrooms Program at Mount Carmel Holy Rosary School in Harlem.
During her visit the Secretary of State heard plans for a similar programme to be extended to Belfast from New York in the coming months. Ms Villiers had the opportunity to watch performances and meet with 4th graders involved in this successful programme for children from an inner city Background. Speaking after her visit Ms Villiers said:
It was great to visit such a successful project which is clearly making a big difference to the lives of the children taking part. It is inspiring to see how Pierre Dulaine and his team have been able to inspire kids from hard to reach communities. I am delighted that he is taking his Dancing Classrooms to Northern Ireland .
Published 26 October 2012