News story
Secretary of State attends first major celebration to mark the start of 2013 UK City of Culture
The Secretary of State for Northern Ireland, Rt Hon Theresa Villiers MP attended the Sons & Daughter's Concert at The Venue, Ebrington, Londonderry.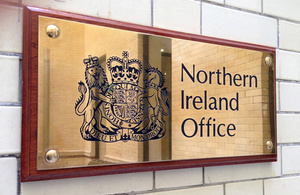 Rt Hon Theresa Villiers MP attended the Sons & Daughter's Concert at The Venue, Ebrington, Londonderry.
The theme of the evening was to celebrate the 'Sons and Daughters' of the city whose talents have earned them international reputations.  It featured renowned artists from across the cultural spectrum such as Phil Coulter, Nadine Coyle, Dana, James Nesbitt, Damian McGinty and Amanda Burton. 
Speaking during the concert, Theresa Villiers said:
Derry/Londonderry has made history as UK's first ever City of Culture.
For those who call this great place Londonderry and for those who call it Derry … they can be as one in their pride on this achievement.
The richness of this city's cultural history does indeed merit the "Legenderry" label it has acquired as the latest addition to its list of different names … and I have experienced the warmth and hospitality of its people at first hand.
And as we go from a past in Northern Ireland that has been bitterly divided … and move together to a future that can be shared and celebrated by all … Derry/Londonderry can provide a blueprint.
And that transition is graphically illustrated by the fact that this celebration concert tonight is taking place at Ebrington Barracks … a place with such a controversial history but which is set to play a key role in what I am sure will be a highly successful City of Culture year.
Throughout its eventful past … I know that Londonderry has always retained the fortitude, optimism and vibrancy that make it such a special place.
This year can be a catalyst for Derry … a focal point for culturally led regeneration;
It has the potential to be a game-changing moment … a transformational year for the city.
Together we must ensure that this year provides a lasting legacy … both culturally and economically … for future generations.
Northern Ireland's creative talent is among the best in the world and the UK City of Culture provides an opportunity to showcase this internationally. 
So it is with great pleasure that I look forward to experiencing Londonderry's home grown musical talent tonight, a talent that has put Derry on the international stage for all the right reasons.
Published 20 January 2013