News story
Secretary of State announces appointments to the Parades Commission
The Secretary of State, Rt Hon Karen Bradley MP, today announced the appointment of Ms Joelle Black as new member of the Parades Commission of Northern Ireland.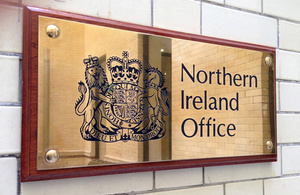 The Secretary of State has also announced the reappointment of existing Commission member, Mrs Anne Marshall.
Ms Joelle Black has been appointed as a member of the Parades Commission from 28 May 2018 until 31 March 2021.
Mrs Anne Marshall has been re-appointed to the Commission for a further three years until 31 March 2021.
Notes for Editors
The Parades Commission was set up in 1997. Its powers and duties are to be found in the Public Processions (Northern Ireland) Act 1998.
Further information on the Commission can be found on its website
Biographies
Joelle Black is a Barrister-at-Law and has been a Public Prosecutor with the Public Prosecution Service for Northern Ireland since 2008. From 2013-2015, Ms Joelle was seconded by the Foreign and Commonwealth office to EULEX Kosovo as a Special Prosecutor.
A biography for Anne Marshall can be found at on the Parades Commission's website.
Terms of appointment
Appointments to the Commission are made in line with the Governance Code on Public Appointments and are regulated by the Commissioner for Public Appointments.
Members of Parades Commission for Northern Ireland receive £22k per annum for a commitment of one day per week, but this is likely to increase to two or more days in the April to August period.
Members of the Parades Commissions are appointed on a part time basis.
Political Activity
All appointments are made on merit and with regards to the statutory requirements. Political activity plays no part in the selection process. However, in accordance with the original Nolan recommendations, there is a requirement for appointees' political activity in defined categories to be made public.
Neither appointee has declared any political activity within the last five years.
Published 25 May 2018