World news story
Second Polish-British Belvedere Forum announced in London
The steering committee of the civil society Belvedere Forum met at the premises of the Foreign and Commonwealth Office to discuss preparations for 2018.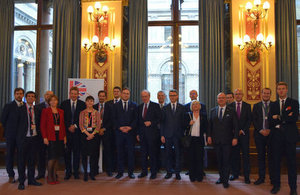 The Polish-British Belvedere Forum is the largest non-governmental conference between the UK and Poland. Launched in 2017 at the Belvedere Palace in Warsaw, the Forum brings together representatives from a wide range of backgrounds, including academia, business, media, NGO's, culture , and the diaspora.
The forum is led by a steering committee composed of prominent figures from both sides, co-chaired by Sir Malcolm Rifkind KCMG QC and Mr. Ryszard Czarnecki MEP.
On Tuesday 17 October 2017, the committee met at the Foreign and Commonwealth Office in London, to discuss preparations for the 2018 Forum. The committee agreed that the forum will take place on 19-20 February 2018 in London. Similar to this year's forum, it was agreed that it will begin with an evening reception followed by a full day of talks.
A reception to mark the launch of the Belvedere Forum in the UK followed the joint steering committee meeting. The reception was hosted by the Minister of State for Europe and the Americas, Sir Alan Duncan KCMG with a special guest appearance by the Foreign Secretary, Boris Johnson. The reception brought together a diverse crow of over 200 representatives from the UK and Poland.
Minister Duncan highlighted the strategic importance of the Belvedere Forum to Polish-British relations:
Last year, we committed to build a strategic partnership between our two countries. Together, we are working hard to make this aspiration a reality…There is a great deal going on at the political level, but actually that is not all – we've also made progress on reinforcing our vibrant personal ties, and that's what the Belvedere Forum is all about, and it's what we are gathered here tonight to celebrate.
The Foreign Secretary congratulated the forum for the important work it does in strengthening Polish-British ties, and mentioned the important social and economic contribution of the one million Poles living in the UK:
We have thirty thousand businesses in this country that are Polish. That is because we have one million Poles living here, and we are thoroughly blessed, we are lucky.
Co-chair of the steering committee, Sir Malcolm Rifkind, emphasized the civil society element of the forum, stating that political developments currently taking place in Europe and in the world are "big issues, and they are not just for governments – they are for people, for individual citizens [to discuss and debate too]."
Published 20 October 2017