News story
Second meeting of Cable's Entrepreneurs' Forum
The forum is part of the Government's agenda to engage with business people to hear their views on boosting enterprise and promoting growth …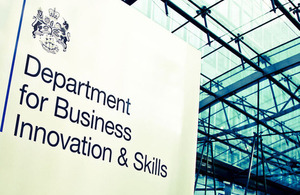 The forum is part of the Government's agenda to engage with business people to hear their views on boosting enterprise and promoting growth across the economy.
Up to 17 entrepreneurs sit on each meeting of the forum and they were drawn together on the basis of experience they can bring to the development of enterprise policy.
Following the first meeting of the forum in January, Action Groups have been established to look at three key areas for enterprise: ease of starting up; access to finance; and employment regulation.
At this meeting, the outcomes from the Action Groups will be discussed and practical steps and activities agreed ahead of the third meeting of the forum in September.
Business Secretary Vince Cable said:
"I greatly value the advice I receive from the members my Entrepreneurs' Forum, and our first meeting in January was extremely positive. I am now keen that we build on the enthusiasm and knowledge of the group to make a real difference to enterprise and growth in this country."
"I am particularly interested to hear about the work of the three Action Groups, which I hope will enable us to identify some practical outcomes to help small businesses."
Notes to editors:
---
1.** The Entrepreneurs' Forum will meet around four times a year, with a flexible schedule according to the material to be discussed. **
---
The forum will complement other major bodies attended by the Business Secretary:**
The Prime Minister's Business Advisory Group, which provides high level advice to the Prime Minister and senior Ministers on critical business and economic issues facing the UK.
The Secretary of State's Business Advisory Group, which is an informal advisory board which aims to provide produce ideas covering the Department for Business' activities.
The Small Business Economic Forum, which allows small businesses and their representatives to provide independent views to Ministers on government economic policy relevant to enterprise and small business, and allows for engagement between Ministers, small business and the banking sector.
Business and Enterprise Minister Mark Prisk and Parliamentary Secretary for Business, Innovation and Skills Baroness Wilcox will also attend the meeting.

The Government's Plan for Growth, the first part of the ongoing Growth Review, was published at the Budget. The plan, setting out the detailed actions across government, can be found at: http://www.hm-treasury.gov.uk/ukecon_growth_index.htm.

The full list of members for the Entrepreneurs' Forum is:
James Caan
**- Investor, Dragons **Den
**Tim Campbell
**- Founder, Bright Ideas Trust
**Jan Fletcher
**- OBE, Chair, Montpellier Estates
**Baroness Margaret Ford
**- Chair, Olympic Park Legacy Company
**Dawn Gibbins
**- MBE, Founder, The Barefoot Foundation
**Polly Gowers
**- Founder, Everyclick
**Sahar Hashemi
**- Founder, Coffee Republic
**Carl Hopkins
**- Founder, Joblink Solutions
**Anne Malkin
**- CEO, Access Risk Management Group
**Julie Meyer
**- Founder, Ariadne Capital
**Sara Murray
**- Managing Director, Buddi
**Shaf Rasul
**- Founder, E-Net Computers
**Bruce Savage
**- Founder, GFC Diagnostics
**Sarah Tremellen
**- Founder, Bravissimo
**Perween Warsi
**- Founder, SA Foods
**Kresse Wesling
**- Founder, Elvis & Kresse
**Christiane Wuillamie
**- Managing Partner, Principia Group
---
6.** **BIS's online newsroom contains the latest press notices, speeches, as well as video and images for download. It also features an up to date list of BIS press office contacts. See [http://www.bis.gov.uk/newsroom](http://www.bis.gov.uk/newsroom) for more information.
Notes to Editors
Contact Information
Name BIS Press Office Job Title
Division COI Phone
Fax
Mobile
Email NDS.BIS@coi.gsi.gov.uk
Name James Platt Job Title
Division Department for Business, Innovation and Skills Phone 020 7215 5978 Fax
Mobile
Email james.platt@bis.gov.uk
Published 4 May 2011