World news story
Second call for proposals by Vietnam Business Challenge Fund
Take up the challenge and embrace the untapped opportunity.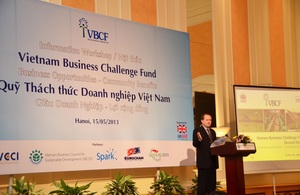 The Vietnam Business Challenge Fund (VBCF) – a seven million pound programme supported by the UK Aid, officially announced its second call for proposals today.
Private businesses – both national and multinational - operating in Vietnam are invited to submit their innovative and inclusive business ideas in the three sectors (Agriculture, Low Carbon Growth, Infrastructure and Basic Services) at any time from Wednesday, 24 April until Friday 30 August, 2013. A series of road shows will also be held across the country to provide further information on VBCF, including a road show in Dak Lak (24 April); Hue (7 May); Ho Chi Minh City (8 May); Hanoi (15 May); Nam Dinh (17 May); and Tuyen Quang (22 May).
Despite the remarkable economic achievements that have made Vietnam a middle income country, the divide between the rich and the poor is becoming an increasing and ever more urgent challenge. This at the same time offers an opportunity for private companies to tap into the low income market, estimated at more than half of Vietnam's population, to provide them with those basic services, income and job opportunities that they are currently missing.
The VBCF is therefore designed as a specialized fund to support private sector companies in Vietnam to develop innovative inclusive business models that deliver both commercial benefits for the company and social impact for low income populations, including job creation, income improvements and access to affordable goods and services. It is expected that successful projects supported by VBCF will catalyse systemic changes to have wide scale impacts beyond project cycle. It will provide business mentoring support and award non-reimbursable funding of up to USD 800,000 per project, which addresses one or more of the following challenges:
Agriculture (There are changes in the challenges, hence the team will have to revise all the three following).
improve crop quality and productivity for small farmers?

add value to agriculture raw materials supplied by small farmers?

introduce environmentally friendly practices and technologies for small farmers?

introduce infrastructure solutions (irrigation, storage, drying, collection, etc.) for small farmers' value chains?
Low Carbon Growth
introduce affordable renewable energy solutions for low income markets?

introduce climate change adaptation/mitigation solutions for low income populations?

reduce the environmental pollution and improve the economic conditions of the low income population by turning waste into energy?
Infrastructure and basic services
introduce innovative microfinance solutions for rural households

introduce new mobile solutions improving access to information, financial services and others for the rural households?

disrupt the health, water and sanitation and housing sectors with affordable and quality products and services for the low income population?
The VBCF's first round of call for proposals, which ended on 28 January, resulted in 150 proposals from private companies across the country. 14 shortlisted proposals are being in the final stage of assessment for VBCF investment decisions.
The VBCF was officially launched in November 2012. It is funded by the UKAid, through the Department for International Development (DFID), and managed by SNV Netherlands Development Organization, a global and local pioneer in sustainable and inclusive business models. VBCF is implemented with the support of the Vietnam Chamber of Commerce and Industry (VCCI), Vietnam Business Council for Sustainable Development (VBCSD), and SPARK Center for Social Entrepreneurship Development.
For more information, please visit: VBCF website
Vietnam Business Challenge Fund
Telephone: 84 4 37265214
Email: info@vbcf.org.vn
Published 22 May 2013