News story
Search begins to find managers for waste infrastructure investments
The fund will invest in small waste infrastructure projects, waste recycling and waste treatment ahead of the establishment of the Green Investment…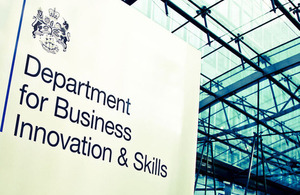 The fund will invest in small waste infrastructure projects, waste recycling and waste treatment ahead of the establishment of the Green Investment Bank (GIB).
Potential Fund Managers should target the waste infrastructure sector, and projects with a technical focus on value adding re-use, recycling, or waste reprocessing facilities; waste-to-energy facilities; waste facilities displacing fossil fuels; and rollout of proven waste technologies across the UK.
Fund Managers expressing an interest should also show how they intend to raise the private sector investment to invest alongside UKGI.
Notes to editors:
---
The Government will seek to appoint experienced Fund Manager/s with a proven track record to run managed waste accounts totalling up to £100 million. To register your interest go to: www.bis.gov.uk/ukgicompetition

Investments in the waste infrastructure sector are needed to help the UK meet its landfill diversion targets, reduce greenhouse gas emissions and contribute to renewable energy targets. The aim of such investments is to reduce landfill volumes and related environmental costs and help to recover recycled materials or energy from waste.

The EU Waste Framework Directive calls for 50% of household waste to be recycled by 2020 (the recycling rate in England in 2010-11 was 41 per cent) and for a 35% reduction in biodegradable municipal waste landfill by 2020 compared with 1995 (the current proportion of UK municipal waste going to landfill is at 49 per cent, compared to an EU-27 average of 37 per cent). It is currently estimated that in order to meet and exceed EU landfill diversion targets and make the most of these opportunities, waste infrastructure in the UK needs around £2 billion of investment by 2020.
---
The Green Investment Bank (GIB) will accelerate private sector investment in the UK's transition to a green economy. The GIB will play a vital role in addressing market failures which are holding back private sector investment. Sectors likely to be eligible for investment initially include offshore wind, non-domestic energy efficiency and waste infrastructure. Work is ongoing to explore other sectors and the sectors eligible may change over time.

As the bank will need to be approved by the European Commission before it can be established, there will be a phased approach. Once it has been agreed, the GIB will be enshrined in legislation confirming its independent status as an institution with a key public role.

BIS's online newsroom contains the latest press notices, speeches, as well as video and images for download. It also features an up to date list of BIS press office contacts. See http://www.bis.gov.uk/newsroom for more information.
Notes to Editors
Contact Information
Name BIS Press Office Job Title
Division COI Phone
Fax
Mobile
Email NDS.BIS@coi.gsi.gov.uk
Name Ashley Rogers. Job Title
Division Department for Business, Innovation and Skills Phone 020 7215 5971 Fax
Mobile
Published 12 December 2011