Sea Fish Industry Authority (Seafish) Chair appointment
Owen Paterson, the Secretary of State for Environment, Food and Rural Affairs has announced the appointment of Elaine Hayes as Chair of the …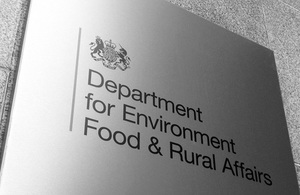 Owen Paterson, the Secretary of State for Environment, Food and Rural Affairs has announced the appointment of Elaine Hayes as Chair of the Seafish Industry Authority's (Seafish) Board.
Elaine will chair the Board, which oversees the strategic direction of Seafish, for three years from 1 January 2013.
The appointment has been made with the agreement of the Cabinet Secretary for Rural Affairs and the Environment in Scotland, the Minister for Agriculture and Rural Development in Northern Ireland and the Deputy Minister for Agriculture, Food Fisheries and European Programmes in Wales.
Seafish is a levy-funded industry body which was created under the Fisheries Act 1981.  It has a statutory duty to promote the sustainability and efficiency of the sea fish industry as a whole.  Seafish is jointly sponsored by the four UK Fisheries Administrations.
The Secretary of State thanked the outgoing Chair, Mr John Whitehead, for his contribution to ensuring the successful future of Seafish, first as Deputy Chair then as Chair, and for his calm and authoritative leadership during his tenure.
Biography
Elaine is Chair of the Devon and Severn Inshore Fisheries and Conservation Authority.  She is a member of the South West Regional Flood and Coastal Committee and an expert advisor to the Torbay Harbour Authority.
Elaine has a Bachelors degree in Animal Physiology and a Masters in Aquatic Resource Management.  She began her career in the water industry, before moving to the not-for-profit sector where she took senior management roles with the Sussex Wildlife Trust and later, the Wildfowl and Wetlands Trust.  She has held a range of appointments including being a Governor at Ridgeway School, serving on the Chichester Harbour Conservancy Advisory Committee and being a member of the Environment Agency's Regional Environmental Protection Advisory Committees for the south east and south west.
As Chair of Seafish, Elaine will be paid a fee of £18,000 per annum for a minimum of 4 days per month.  The appointment has been made on merit and in accordance with the Code of Practice issued by the Commissioner for Public Appointments.  The intention of the Code is to provide an efficient and transparent appointments system in which both candidates and the public can have confidence.  All appointments are made on merit and political activity plays no part in the selection process.
In accordance with the Code there is a requirement for the political activities of appointees to be made public.  Elaine is not engaged in current political activity.
Published 11 December 2012