World news story
Scouts of Ecuador celebrates its 95th anniversary
The Ambassador Patrick Mullee was presented with an award in recognition of the Embassy's support of the Scouts Movement in Ecuador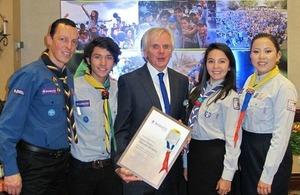 The 26th of March 2015 marked the 95th anniversary of the Scouts of Ecuador institution, which was celebrated with a dinner, accompanied by hundreds of people involved with Scout activities in the country. Among the invitees were the Vice-president, Jorge Glas, who was a part of the movement during his childhood and adolescence. Further attendees consisted of the Minister of Environment, Lorena Tapia, the new Minister of Sport, Catalina Ontaneda, and other various authorities from the public sector as well as private institutions who are involved in the Scouts' activities.
The British Embassy Quito was represented by Ambassador Patrick Mullee, who received a plaque in recognition of the Embassy's involvement with and support of the Scout movement. The plaque was presented by Minister Lorena Tapia, Vice-president Jorge Glas, President of the Scouts of Ecuador, Robert Moss, and the Executive Director of the Movement, Iván Proaño.
Being a worldwide organisation which was created in the United Kingdom more than 100 years ago, the British Embassy Quito has been involved with the Movement in Ecuador, supporting its various projects focussed on the integral development of Ecuadorean children and teenagers, such as the annual reforestation campaign. In addition to this, at the beginning of the year, the Ambassador presented a donation of USD 10,000 which has contributed to the valuable work carried out by the Movement in the country.
The Embassy is proud of its partnership with the Scout Movement, with which we will continue to cultivate a close relationship. We wish the Scouts of Ecuador a lot of success and a happy birthday!
Published 1 April 2015