News story
Scottish space sector set for lift off
The UK Government is supporting three of Scotland's most promising space companies through a new trade mission to the United States.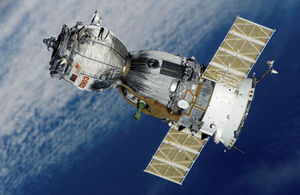 The Space Mission 2015 - which takes place this week until the 14th August - sees nine British companies attend the Small Satellite Conference in Utah, before travelling to California to meet with industry leading companies and investors, including teams from NASA, Virgin Galactic and Lockheed Martin. The three Scottish companies are:-
Bright Ascension, a Dundee based provider of software solutions for satellites, that save time and money

PocketQube Shop, a Glasgow based one-stop-shop for custom satellites that cost less than a family car

Scot Sat, an Edinburgh based provider of ultra-high speed mobile satellite communications at a fraction of the cost
The companies each applied and went through a competitive application process for the funding to attend the Mission. It will feature some of the most exciting British companies in the space industry, from small start-ups to established market leaders.
The Mission is designed to enable increased collaboration between the United States and the UK within the space sector. Historically, although both countries have deep rooted connections with space, the United States' private space sector has expanded much more rapidly over the last twenty years. This affords an excellent opportunity for UK companies to build connections with industry leaders and learn from their experiences. Helping British companies grow is a key objective of the UK government and the space sector has been identified as a high growth potential market by Innovate UK and UKTI.
Throughout the Mission the companies will be supported by Innovate UK and UKTI space experts who will be on hand to assist the companies and ensure they maximise their opportunities. The experts also have considerable contacts within the space industry and will help to make introductions with prominent US business contacts.
Scotland Office Minister Andrew Dunlop said:
This trade mission is a prime example of the support the UK Government can offer Scottish companies. The UK's diplomatic global network provides a platform to make the most of the opportunities in one of the world's fasting growing industries.
Jo Johnson Minister for Universities and Science said:
The Space sector is one of Britain's great success stories. This mission will help the brightest and best of British firms showcase their innovate products and expand into new markets, creating new jobs for Britain and boosting productivity.
Tim Just Head of Space at Innovate UK said:
The Space Mission 2015 demonstrates the UK Government's commitment to supporting and growing the British space industry. All of these burgeoning firms are at the forefront of the new space race and have genuinely built innovative solutions to some of the sector's greatest challenges.

We are proud to support these companies as they lay the foundation for future British economic growth.
Published 10 August 2015