Press release
Scottish Secretary welcomes Aberdeen City's humanitarian response
David Mundell has welcomed the work of local authorities to the on-going Syrian refugee response.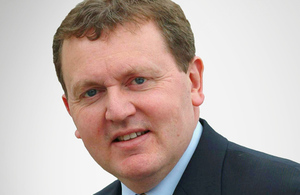 The Minister made the comments after attending Community Planning Partnership meeting this morning in Aberdeen. Led by Aberdeen City Council and attended by voluntary groups, third sector organisations and others, they outlined the next steps in the local response to the on-going Syrian refugee situation.
The Secretary of State said:
I welcome the efforts of Aberdeen City Council as well as all other Scottish local authorities as they work to find homes for Syrian refugees. The UK Government is committed to take up to 20,000 refugees over the next five years and the work of local authorities is absolutely vital to ensure we get this done.

This morning was a valuable opportunity to hear how the response is being managed on the ground by local authorities and community groups. As part of the taskforce chaired by the Home Secretary, I made clear my door is open and I am happy to do anything I can to assist the council with their arrangements.

While we can be proud of the compassion our country has shown to those most in need, we must continue to pursue a comprehensive approach to this issue. This means using our aid budget to alleviate poverty and suffering where refugees are coming from and continue to work with our global partners to bring to an end to the conflict which is driving so many to flee.
NOTE TO EDITORS
Further information on the UK Government response to the Syrian refugee situation.
The Prime Minister announced on 7 September that the UK would accept up to 20,000 Syrian refugees over the next 5 years.
Since 2012 the UK has committed over £1 billion of aid to Syria – the country's largest ever response to a humanitarian crisis.
The UK Government is working with UN High Commissioner for Refugees to identify some of the most vulnerable displaced Syrians and bring them to the UK. This scheme is helping those in the greatest need who cannot be supported effectively in the region by giving them protection and support in the UK.
Published 28 September 2015