News story
Scottish Secretary tours Stirling University's world-leading Institute of Aquaculture
University to receive £22 million UK Government funding through Stirling & Clackmannanshire City Region Deal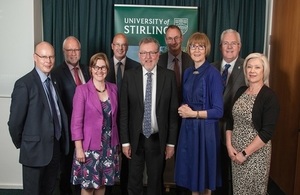 Scottish Secretary David Mundell met with academics and toured the Institute of Aquaculture at the University of Stirling to hear about their work, and how UK Government funding to the university – part of the Stirling and Clackmannanshire City Region Deal will help them continue their cutting edge research and innovation.
The City Region Deal confirms that the UK Government will invest £17 million to build a new Aquaculture Hub for Innovation.
This will be unique in Scotland and the UK, and will operate four aquatic research facilities which between them will provide the full range of marine environmental conditions.
The hub will create research and development opportunities that will secure jobs and an economic contribution in the process.
The deal also confirms that the UK Government will invest up to £5 million into a new international Scottish Environment Centre, which will provide an integrated approach to cutting-edge research, innovation, skills development, inclusion and sustainable growth that tackles global environmental challenges.
The announcement was welcomed by University Principal and Vice-Chancellor, Professor Gerry McCormac, who said:
I welcome today's signing of a City Deal for Stirling and Clackmannanshire, which will bring significant economic benefits.
Investment in world-class research through the City Deal will enable University of Stirling researchers to further tackle some of the world's most pressing problems. By working in partnership, we can unleash our economic potential, delivering a unique source of jobs, growth, and skills development, both for Stirling, and the wider Scottish and UK economies.
Published 31 May 2018