World news story
Scottish Minister for Environment and Climate Change in Chile
Scottish Minister Paul Wheelhouse visited Puerto Montt and Santiago to strengthen links with Chile on fisheries and climate change.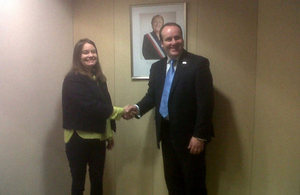 Mr. Wheelhouse was a guest of honour at the Aquasur fisheries fair in Puerto Montt on the week of 20 October. Chile and Scotland have two of the largest global aquaculture industries, and Mr. Wheelhouse encouraged greater bilateral trade in the sector. Various Scottish companies in aquaculture and marine renewables including Aquatera and Albertern, joined the Minister to explore these trade opportunities. The Minister also met the Chilean Under-Secretary of Fisheries, Raúl Galdames, and agreed to explore further bilateral co-operation in regulatory, academic and commercial issues.
Mr. Wheelhouse continued his visit in Santiago, where he met with authorities to discuss co-operation in culture, renewable energy and sustainable transport. His meetings included Carolina Tohá, Mayor of Santiago; Jimena Jara, Under-Secretary of Energy and Eduardo Bitrán, Vice-President of CORFO.
Before returning to Scotland, Mr. Wheelhouse took part in some cultural activities with strong Scottish links. He attended a concert in La Pintana by Musica Para Todos, an iniciative modelled on Scottish Live Music Now. He also attended the homeless football world cup, this year taking place in Santiago. The concept was started by a Scot, and Scotland entered a team in the competition.
About his visit, the Minister said:
It has been a pleasure to visit Chile, a beautiful and prosperous country, where I have received a very warm reception. I have been impressed not just at the range of links with Scotland, but also the range of opportunities for deepening these links, especially in aquaculture, renewable energy and climate change.
Further information
For more information about this visit, contact Felipe Osses, Climate Change and Green Growth Officer, British Embassy, Santiago.
For more information about the events and activities of the British Embassy in Santiago, follow us on:
Published 4 November 2014