News story
Try our online tool
Explore the benefits of staying part of the United Kingdom for your home, work and family life.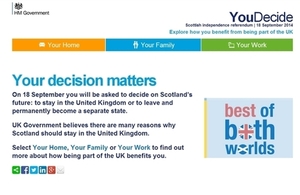 It's easy to get lost in all the arguments and statistics around the Scottish independence referendum debate. That's why we've made the debate easier with this website: You Decide 2014
The site is run by the UK government.
Scottish independence would affect each of us differently – parents, students, business owners. Find out how staying part of the UK benefits you.
For instance, did you know that staying in the UK could save you up to £1,700 on mortgage repayments in the first year alone – and will save up to £189 a year on an average household energy bill?
Published 18 July 2014