News story
Scottish independence referendum: 5 facts with 5 months to go
There's just 5 months until Scotland makes a big decision about its future. Make sure you're in the know.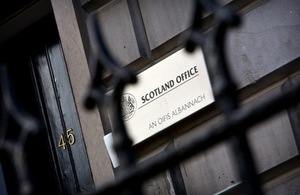 On 18 April it will be 5 months until the independence referendum in Scotland – a once-in-a-generation opportunity for people in Scotland to have their say about the country's future.
Here are five things to keep in mind.
It will be the end of the United Kingdom as we know it
It would mean Scotland leaving and starting again. The services and institutions we now share will stay part of the continuing UK, and the new Scotland will have to create much of its own infrastructure and negotiate its own terms and conditions with other countries. Scotland currently shares more than 200 public bodies with the rest of the UK – recreating these will take time and money.
The UK has a diverse and successful economy
The UK has a population of around 63 million people; Scotland's population is around 5 million. This means far more people are paying tax across the UK, which is what funds public spending and ensures we provide for one another – whether that's through the NHS or the State Pension.
Scotland benefits from this, as public spending is 10% higher per person in Scotland than across the UK as a whole. Being part of the UK means Scotland's economy – which is particularly strong in sectors like energy and financial services – is better protected against the ups and downs of the global economy.
The UK is the sixth largest economy in the world, despite being only 22nd in terms of population size.
Being part of the UK is a key factor in that economic success
Scottish businesses do most of their trade with the rest of the UK; separation could see trade move less freely, affecting jobs and income. 70% of Scottish exports (40% of all Scottish goods and services) go to the rest of the UK.
The UK has major international influence
The UK has a seat at the top table, where we influence global decisions on security, trade, finance and farming. As a major player in the UN Security Council, NATO and the EU, the UK carries influence through its international alliances and world class armed forces that not only help to protect us all, but also generate jobs. The UK spends over £34 billion on defence annually, and 12,500 regular armed forces (8.8% of the UK total) will be based in Scotland by 2020.
We are a truly United Kingdom
The UK doesn't just share business and government institutions, it has centuries of shared culture, media, sport and arts. The diversity of the UK enriches everything we do – from our academic research and technological innovation to our performing arts – and it means we can invest more in doing it. Scottish communities received one fifth of UK Government money spent improving broadband in rural areas. And the BBC, which receives just over £300 million in licence fees from Scotland each year, spends just under £4 billion on broadcasting that Scottish viewers and listeners can enjoy.
Published 18 April 2014