Scottish Government publishes Armed Forces Commitments Paper
A united approach to ensure the well-being of Scotland's Service personnel and veterans was announced on Wednesday, 5 September, by Veterans Minister for the Scottish Government Keith Brown and senior representatives of the three Armed Services in Scotland.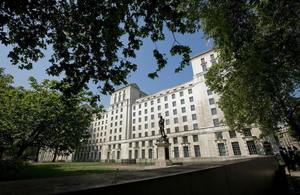 The Armed Forces Commitments Paper sets out what the Scottish Government is doing to address the health, housing, education and justice needs of current and former servicemen and women and their families.
It also lays out how the Government will work with partner organisations in the future to ensure consistent support for this group.
Key commitments outlined in the paper include providing online advice to Service families about education for their children, allowing Service personnel to apply for social housing prior to discharge from the Armed Forces, providing injured veterans with state-of-the-art prosthetic limbs, and supporting the Scottish Veterans Fund - an initiative which has provided £400,000 of grant assistance to 60 projects since 2008.
Launching the Commitments Paper at Edinburgh Castle, Mr Brown said:
Scotland's soldiers, sailors and airmen and airwomen are amongst the best in the world, and their bravery, loyalty and professionalism deserve our wholehearted care and support.

This Commitments Paper sets out our obligations to serving personnel, their families, reservists, veterans and the bereaved and how we will continue to meet them.

With input from partner organisations like Veterans Scotland, we will continue to develop, deliver and implement new and innovative policies to support this dedicated group of men and women.
Brigadier Paul Harkness, Commander of 51 (Scottish) Brigade, said:
I warmly welcome the Scottish Government's Commitments Paper outlining their support for servicemen and women in Scotland, families and veterans.
The Armed Forces Covenant established by the UK Government set out unwavering commitments to our Service community and I am pleased that the Scottish Government has set out their commitments to meet these obligations.
"This initiative by the Scottish Government provides reassurance to all Service personnel, both past and present, living in Scotland."
Martin Gibson of Veterans Scotland said:
Veterans Scotland warmly welcomes the Scottish Government's Commitments Paper to the Armed Forces Community in Scotland.

Meeting the needs of Scotland's veterans has always been a priority for this Government, with much achieved already; the paper clearly states how support will be delivered and provides a strong baseline for future initiatives.

The coherence of the paper's policies will allow Veterans Scotland and the military charities to work in a well-defined arena which will go a significant way to ensuring that help and support will be available to our veterans wherever it is needed.

We thank the Scottish Government for their commitment to both those who serve and have served in the Armed Forces.

I would personally like to thank the minister for his keen interest in Scotland's veterans' overall well-being; it is very much appreciated.
Published 7 September 2012