News story
Scottish export review findings published
Brian Wilson's review of Scottish international trade has been published, analysing challenges faced by businesses.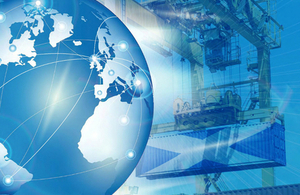 An independent review looking at how best to support the global ambitions of Scottish businesses has been published today.
In 2012 Brian Wilson, the Chairman of Harris Tweed Hebrides and a former trade and energy minister, was appointed as a Business Ambassador for the UK Government.
He was invited to undertake a review of Scottish international trade and analyse the challenges faced by businesses. The review makes recommendations on what can be done to improve support for Scottish businesses seeking to export, a key area for growing the economy.
Mr Wilson said:
Scotland has many great exporting companies. We just don't have enough of them and this report puts forward practical proposals for ensuring that public support for potential and existing exporters is best delivered through a single, integrated effort.

Much of what the report proposes is applicable beyond the constitutional debate. However, all our major exporting sectors have stressed the importance to them of currency union with the rest of the UK, effective commercial diplomacy and a global network of embassies and consulates.

Scotland exports twice as much to the rest of the UK as to the rest of the world. We need to expand our reach, particularly into the rapidly developing markets of Asia and Africa, while safeguarding existing business relationships and supply chains.

The report is very positive about the work of Scottish Development International which properly focuses on well-defined markets and sectors. But we need to ensure that companies which do not match these criteria can also draw on the full range of support which is available through UKTI and other agencies.
Scottish Secretary Alistair Carmichael said:
I very much welcome this report and I am grateful to Brian Wilson for his considerable insight, time and effort. He has drawn on an enormous amount of knowledge across Scottish business and beyond.

Scottish businesses have access to a wide range of support. The UK's global reach and extensive diplomatic, trade and consular network has helped create many Scottish exporting success stories. However, Brian's report identifies that all agencies offering support to exporters need to work better together to deliver a seamless service to businesses, if they are to maximise success.

Once we have had a chance to study Brian's proposals we will publish a Government response to this Review in due course.
Trade and Investment Minister Lord Livingston of Parkhead said:
The UK is the number one location of choice for European bound foreign investment, benefiting Scottish businesses, supply chains and entrepreneurs. UKTI has a presence in over 100 markets and helped nearly 2000 Scottish businesses trade with other countries last year alone.

Britain is better together, helping deliver economic security, international influence, and a stronger and more prosperous Scotland. Brian Wilson's report makes clear that now is the time to work more closely together to exploit new opportunities around the world.
Brian Wilson's report reflects the practical, on the ground experience of businesses, large and small, exporting, or working towards exporting, from Scotland. Much of the feedback he received shows how valued the work of SDI in Scotland and UKTI for the UK as a whole is by Scottish businesses.
The report also identifies a number of other issues and suggested responses to them including:
More collaborative UKTI and SDI co-ordination both in Scotland and abroad
Stronger focus on business skills shortages
A greater understanding and use of the value provided by the UK's network of embassies and consulates
Support for better transport links
A higher level of consistency of service provided
In Scotland, business support is an area devolved to the Scottish Government, while international trade policy and foreign affairs are reserved to the UK Government.
Published 29 May 2014