News story
Scottish businesses get HS2-ready
Firms across Scotland find out how to bid for more than £10 billion of contracts generated by HS2.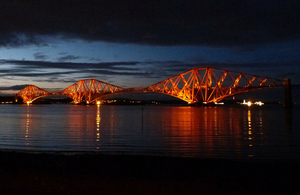 Businesses in Scotland learned about competing for more than £10 billion of contracts as UK government minister Robert Goodwill addressed the HS2 Scottish Supply Chain Conference in Edinburgh today, Thursday 5 November 2015.
Representatives from nearly 100 firms from throughout Scotland, already employing around 140,000 people, attended the conference to find out how to prepare to bid for work on the high speed line, which is a vital part of the UK government's long term plan to rebalance and grow the economy.
UK Transport Minister for HS2 Robert Goodwill said:
Our government's ground-breaking HS2 programme provides a fantastic opportunity for businesses across the UK, including those here in Scotland. It will create some of the largest value contracts in UK construction history, creating job opportunities throughout the supply chain.

With billions of pounds worth of contracts on the table, we are pleased that Scottish businesses are taking full advantage of this event, which sets out how firms can compete for work on this vital infrastructure project.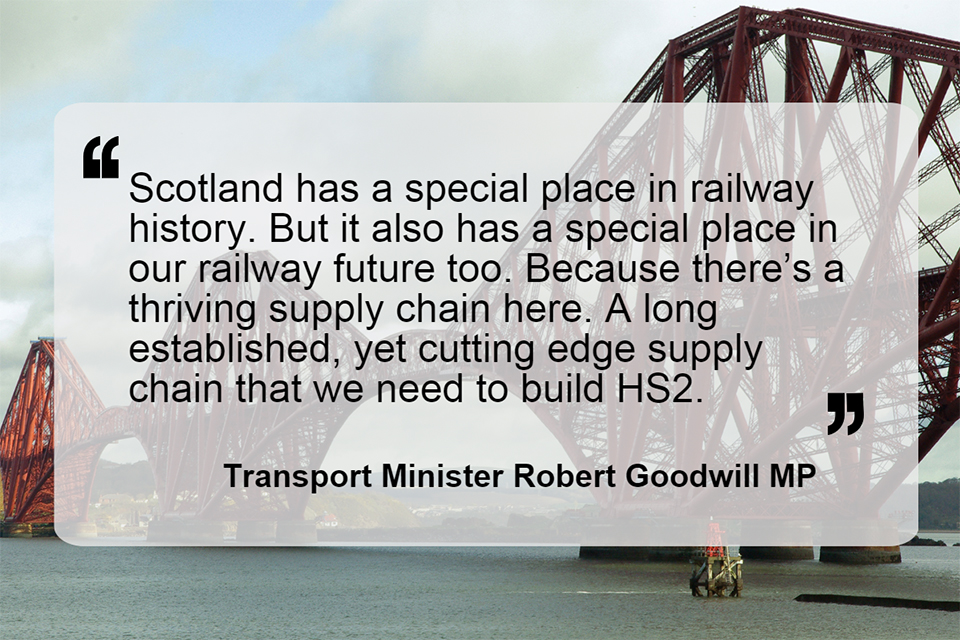 HS2 Ltd Chief Executive, Simon Kirby said:
Britain's high speed rail network is a major, long-term project offering a huge opportunity for Scottish companies to develop the necessary staff and skills base that will position them to bid for the billions of pounds worth of contracts available throughout the supply chain during construction.

To deliver a project of HS2's scale and complexity requires the right companies with the right skills. I'm extremely pleased that so many firms across Scotland have signed up to find out more about how they can benefit from this huge UK infrastructure investment.
Chancellor George Osborne kicked off the bidding process for contracts on Phase One of HS2 in September 2015. HS2 Ltd will require suppliers to work on a huge range of projects as part of this package of works, including:
223 bridges
71 viaducts
more than 60,000 metres of tunnels
87,000 metres of cuttings
nearly 70,000 metres of embankment
Construction of Phase One of HS2 is due to start in 2017. Around 60% of contract opportunities are expected to go to small and medium-sized businesses.
HS2 and major projects media enquiries
Media enquiries 020 7944 3021
Out of hours media enquiries 020 7944 4292
Switchboard 0300 330 3000
Published 5 November 2015