Scottish band performs in Pakistan to pay tribute to Robert Burns
The links between Scotland and Pakistan are deep and enduring.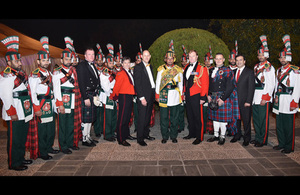 On 23 January, the British High Commissioner hosted a charity dinner to pay tribute to Scotland's national poet and songwriter, Robert Burns. In addition to the traditional annual Burns' Night Supper, the Scottish Ceilidh (pronounced kay-lee) rock band Bahookie, featuring Scott Arnott (drums and vocals) and Neil Thompson (vocals, piano and guitar) provided music for the evening. Bahookie – who had flown in from Scotland especially for this charity event – were joined by pipers and drummers from the band of the 8th Azad Kashmir Regiment.
The Burns' Night celebration included traditional Scottish food, such as Haggis, Neeps and Tatties, Scottish dancing and tributes to Scotland's national poet, Robert Burns.
Proceeds of the event will support the education fund of the Government College for Women, Rawalpindi.
Speaking during the event, the British High Commissioner to Pakistan, Philip Barton, CMG OBE said:
Burns' Night is one of our biggest annual celebrations. I am delighted to be able to host a charity event, while bringing to Pakistan some of Scotland's finest traditions.
Burns' Night is an ideal time to think about the impact Scots and Scotland have had on the world, including their significant contribution to education in Pakistan. Scotland, in collaboration with the British Council, provides scholarships for Pakistani School Children and Pakistani women to study Masters qualifications.
These people-to-people and educational links and a shared love of music and culture unite Scotland and Pakistan. I would like to thank the Bahookie band, and the military pipers and drummers for bringing us a wonderful night of music and dancing in Pakistan.
Joanna Reid, Head of DFID – the UK's development body – in Pakistan, who was born and raised in St Andrews, Scotland, said:
The links between Scotland and Pakistan are deep and enduring. From our proud traditions, the importance of hospitality and beautiful mountainous landscapes, our countries have much in common. The significant population of people of Pakistani origin in Scotland play a lead role in our culture, our politics and our society.
Scotland has also left its mark on Pakistan: from the traditional bagpipe bands in the Pakistani army highlighting our shared history, to the modern factories of Sialkot and the Punjab producing bagpipes and tartan for use in Pakistan and export to the UK.
It is wonderful to be able to introduce my Pakistani friends and colleagues to the traditions of Scotland, to the Haggis, to our music and our culture.
Contact: Press Attaché, British High Commission, Islamabad; tel.92 51 2012000
Published 25 January 2016