Scotland's Army Head installed as Edinburgh Castle Governor
The new Commander of the Army in Scotland has been installed as the newest Governor of Edinburgh Castle.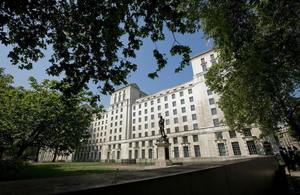 Major General Nick Eeles, late of the Royal Artillery, was installed as the Governor of Scotland's most iconic landmark, on the Castle Esplanade on Thursday, 29 March 2012.
The ancient ceremony was conducted by the Lord Lyon, King of Arms, and means that the General is now a member of Her Majesty The Queen's household in Scotland.
General Eeles is following in some very regal footsteps. Previous Castle Governors include King Charles the Second in 1651 and The Duke of Cumberland in 1747.
Major General Nick Eeles was commissioned into the Royal Artillery in 1982. He was appointed General Officer Commanding the 2nd Division (to be called General Officer Commanding Scotland from 2 April 2012) and Governor of Edinburgh Castle on 4 January 2012.
General Eeles was delighted to take up his new appointment, especially as Edinburgh has some family connections for him:
Edinburgh Castle lies at the heart of Scotland's capital, both literally and metaphorically. From its dominant position it exerts a remarkably powerful hold over the city, and although its function has changed slightly over the years, it has always remained a British military garrison and headquarters, and therefore very much a living castle," he said.
I consider myself to be most fortunate to have been detailed by Her Majesty to fulfil the role of Governor. It gives me enormous personal pleasure to bring my family to live in Edinburgh, and Scotland, for the first time, exactly as my father did in the early 1950s. He spoke warmly of his time working as a staff officer in the Gunner headquarters of Scottish Command which was based here in the Castle, and he would have been delighted, if not little amazed, to know that his son would return here to command the garrison and the Army in Scotland some 55 years later.
General Eeles will spend the next two years in charge of Scottish-based troops, ensuring that they are trained and equipped for operations, and are properly looked after when based at home.
Published 30 March 2012