World news story
Scotland rugby team holds coaching session
This was published under the 2010 to 2015 Conservative and Liberal Democrat coalition government
Scotland rugby team holds coaching session in Soweto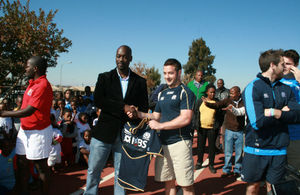 Scotland rugby team holds coaching session in Soweto
On Wednesday 19 June 2013, the British High Commission in Pretoria facilitated a visit by the Scotland rugby union squad to a local rugby club in Soweto, Johannesburg. The Scotland team were there to support the growth of the sport in South Africa's biggest township.
The Scotland squad participated in a coaching clinic organised in conjunction with Jabulani rugby club at Naledi High School. Junior players from Thulani, Isulihle, Kgatelopele, Diodi, Zola and Busisiwe primary schools joined in the coaching session before receiving a full set of kit from the team.
The Scotland team visit was well received by the local community and enhanced UK and South Africa sporting ties as we look ahead to the Commonwealth Games to be hosted by the city of Glasgow in 2014.
Deputy High Commissioner, Martin Reynolds, said:
"The UK and South Africa have a solid, strong and wide-ranging relationship. Sport is an area where we have close links and it is an honour for us to be involved in initiatives such as this."
For photos of the coaching clinic, click here.