News story
Science to drive economic growth
Universities and Science Minister David Willetts has outlined the importance of science in rebalancing the UK economy.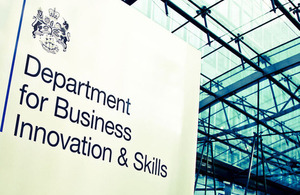 Mr Willetts delivered his first major science speech at the Royal Institution in London today (9 July).
He said that science has an important role to play in driving growth.
"These are austere times for us all. But this Government wants science to emerge from this period to be strong, sustainable and effective. Vince Cable and George Osborne both understand the key role of science, technology and innovation in rebalancing the economy."
Key themes in his speech included:
Ensuring that science retains public trust. The Government's focus on open data and allowing the public to request government-held data is a part of this.
The value of scientific clusters for providing a low-risk environment for a high-risk activity, such as the computer game industry around Abertay University near Dundee.
To focus less on scientific breakthroughs being made in the UK and more on ensuring that UK scientists and businesses are well placed to take advantage of new technologies, wherever they originate.
Government backing for research makes economic sense. He said: "research council spend is doing the job it should be doing - generating wider benefits across the economy as a whole".
Exploring how public competitions offering prizes could stimulate the growth of new technologies, giving the example of the X Prize driving innovation in sub-obital flight.
Mr Willetts also announced that the Research Excellence Framework will be delayed for one year in order "to figure out whether there is a method of assessing impact which is sound and which is acceptable to the academic community".
"This longer timescale will enable HEFCE, its devolved counterparts, and ministers to make full use of the pilot impact assessment exercise which concludes in the Autumn, and then to consider whether it can be refined."
**Links **
Transcript of David Willetts speech
BIS press notice: David Willetts announces review of impact requirement of REF
David Willetts' interview with Times Higher Education

Follow the discussion on Twitter: #scipolicy

Published 9 July 2010