News story
Science Minister underlines importance of public engagement at British Science Festival 2010
Speaking about the festival, Mr Willetts said: "Every year this festival conveys the wonder and importance of science and engineering in a …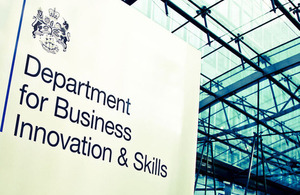 Speaking about the festival, Mr Willetts said:
"Every year this festival conveys the wonder and importance of science and engineering in a different part of the country. The UK has a thriving science festival scene which leads the way in entertaining and engaging the widest possible audience with these issues. I'm also delighted that this summer three public dialogues on topical science issues have been completed. I am committed to supporting excellent ways to engage the public with science."
In the keynote speech at the British Science Festival Dinner, the Minister announced that the present GM dialogue project will not continue in its current format.
The GM dialogue project was being co-ordinated by the Food Standards Agency following a request by the previous Government, with the aim of discussing consumers' views of the risks and benefits of GM. Following the change in Government, Ministers had been asked if they wanted to continue with this project.
Mr Willetts said:
"I'm announcing today that the GM dialogue project will not continue in its current format. However, it's vital to engage people of all ages on scientific issues, so that they have a real say about developments which can affect all of us.
"Instead we are taking this valuable opportunity to step back and review past dialogues on GM and other areas of science to ensure we understand how best to engage the public over such issues."
The details of the Government's policy on the use of GM technology in food and agriculture are still being determined, but all policies will be based on robust evidence. Developing effective and appropriate public engagement will need to be an element of this.
Mr Willetts will see several activities on offer at the popular annual event - held this year at Aston University in Birmingham - before giving the keynote speech at the Festival Dinner.
He will also visit the Birmingham City University Skillset Media Academy. This will be his first visit to a Skillset Academy, where he will learn more about the benefits of partnerships between universities and Sector Skills Councils.
The theme for this year's event is "Better Lives through Science", and it aims to demonstrate how scientific research impacts on all our lives - from climate change to food security.
Notes to editors:
---
For more information, or to request an interview with David Willetts at the Science Festival please contact Rachel Clarke, Press Officer, on 18002 020 7215 5945 or email: rachel.clarke@bis.gsi.gov.uk

BIS' online newsroom contains the latest press notices, speeches, as well as video and images for download. It also features an up to date list of BIS press office contacts. See http://www.bis.gov.uk/newsroom for more information.

For further details of the previous dialogue on GM run by the Food Standards Agency visit http://www.food.gov.uk/gmfoods/gm/gmdialogue/
Notes to Editors
Contact Information
Name BIS Press Office Job Title
Division COI Phone
Fax
Mobile
Email NDS.BIS@coi.gsi.gov.uk
Published 16 September 2010