News story
Science Minister signals a new era for Culham Science Centre
Jo Johnson MP opens two specialist hi-tech facilities at Culham.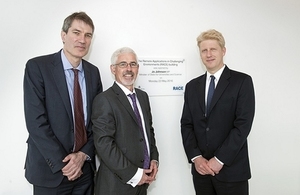 UK Universities and Science Minister Jo Johnson MP visited Culham Science Centre on Monday 23 May to open two specialist hi-tech facilities developed by the UK Atomic Energy Authority (UKAEA) at the site.
RACE (Remote Applications in Challenging Environments) is a robotics test centre for UK industry. Robotics is one of the Government's 'Eight great technologies' for growth and RACE puts Oxfordshire at the heart of this exciting sector. It applies the knowledge in robotics developed over two decades at the Joint European Torus (JET) fusion experiment at Culham so companies in other areas, such as space, deep sea, nuclear, construction and autonomous vehicles, can benefit. RACE has already helped British firms secure £100 million in contracts.
The Materials Research Facility (MRF) is a laboratory for scientists designing the nuclear power stations of the future – both fission and fusion. MRF is a key part of the Government-backed National Nuclear User Facility which aims to improve the UK's nuclear research base, to ensure Britain has long-term options for generating low-carbon energy in the future.
Mr Johnson also announced funding for Oxford Advanced Skills – a new apprentice training facility for Oxfordshire hi-tech businesses, also to be located at Culham Science Centre. Oxford Advanced Skills is a partnership between UKAEA and training providers JTL – it will train 150 engineering apprentices per year when completed in 2019 and aims to address the skills shortage which threatens Oxfordshire's booming technology sector.
RACE and MRF are UKAEA's first new research facilities at Culham for over 30 years. With Oxford Advanced Skills coming soon and the MAST-Upgrade fusion device due to go online in 2017, it marks the start of an exciting new era for the site.
Professor Steve Cowley, UKAEA's CEO, said:
UKAEA and Oxfordshire are taking technology from fusion research and moving it towards industrial applications. Robotics is a vital sector where much of the future lies, and advanced materials are key to the next generation of innovations. I'm delighted to welcome the Minister to open these two state-of-the-art facilities at Culham. They are testament to the Government's commitment to tomorrow's technology.
During his visit, Mr Johnson toured the Joint European Torus (JET) fusion experiment. JET is the only major European research facility on UK soil, and the Minister emphasised the value of EU membership to British science:
He said:
The hard work of scientists, academics and apprentices here in Culham is a prime example of why the UK is a world-leader in scientific discovery. These new facilities will take the next steps in developing clean energy, and train apprentices to support local businesses and growth. Our membership of the EU, and the funding and international collaboration it brings, is vital to the world-leading research here at Culham and across the UK.
Published 23 May 2016