News story
Science Minister launches consultation on EU Framework Programme
The UK's performance has been strong in the current 2007-2013 iteration of the Framework Programme (known as FP7) - with researchers receiving…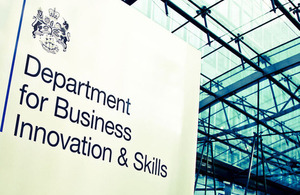 The UK's performance has been strong in the current 2007-2013 iteration of the Framework Programme (known as FP7) - with researchers receiving €1.83 billion (£ 1.64 billion) of funding from the €12.7 billion (£11.37 billion) awarded to date.
The programme is expected to be worth a total of €50.5 billion (£45.2 billion) for the 2007-2013 period.
However, while there are high levels of participation from the UK's academic community, business participation is lower in comparison with France and Germany.
By developing a deeper understanding of the programme - the EU's main mechanism for funding research, technological development and demonstration - the UK can generate best value of the opportunities it offers.
Science Minister David Willetts said:
"UK universities, business and research centres have an excellent track record of winning grants from this important programme. So far, we've attracted more than £1.6 billion - second after Germany. Research, technology and innovation will play a key role in helping our economy to grow and it is vital that this initiative meets UK interests.
"We want to hear from those with first-hand experiences of this initiative - academics, researchers and particularly businesspeople - so that we better equip the UK to maximise on the opportunities on offer and strengthen our negotiating position in advance of the next Programme."
Recent UK projects which have won EU funding include:
Professor Konstantin Novoselov at Manchester University, who was last week jointly awarded the Nobel Prize in Physics "for groundbreaking experiments regarding the two-dimensional material graphene", was awarded an €1.78m (£ 1.46m) ERC Starting Grant - part of FP7 - in 2007 for his project on the same material.
Researchers, led by King's College London, have discovered a gene associated with myopia (nearsightedness) which could potentially make the condition a good candidate for gene repair. This work was supported by funding from the current programme - FP7 - as well as FP6 and FP5. Total project funding to all partners was €28.86m (£19.58 m).
A new data transmission system has been developed by researchers led by the University of Southampton which could significantly improve transmission capacity and energy efficiency of the world's optical communication networks. PHASORS ('Phase sensitive amplifier systems and optical regenerators and their applications') project clinched total project funding of €2.7 m (£2.13m).
The Framework Programme aims to deliver a number of EU-wide benefits including economies of scale, the development of public goods such as low-carbon technologies and the creation of cross-European networks.
One of the issues that this consultation will explore is what would encourage more businesses involved in research and development to take advantage the framework programme's funding opportunities.
The call for evidence will go live on 13 October 2010 and will close 12 weeks later on 4 January 2011.
Go to [www.bis.gov.uk/fp8-call-for-evidence](http://www.bis.gov.uk/fp8-call-for-evidence)
to download the consultation document and response form.
You can also join in an online discussion via the Technology Strategy Board __Connect _platform on https://ktn.innovateuk.org/web/guest and register for the FP7 UK network and then the FP8 consultation group.
Notes to editors:
---
Printed copies of the consultation document can be obtained from BIS Publications via the orderline: 0845 015 0010.

FP7 grants are paid in Euros and amounts given in GB pounds (£) are approximate figures based on exchange rates prevailing at the start date of individual contracts.

FP7 currently funds the following broad areas of research:
Cooperation: collaborative research projects involving universities and businesses from at least three countries.
Ideas: projects driven by a single, highly-regarded "investigator" and funded through the European Research Council. These are often, but not necessarily, highly innovative "blue skies" research projects.
People: a number of projects aimed at boosting researcher skills and mobility under the Marie Curie programme.
Capacities: a numbers of programmes aimed at boosting the research capacity of Europe.
The Joint Research Centre supports EU policy-making and delivery e.g. in nuclear and environmental science through a number of research centres.
For media enquiries contact Rachel Clarke, BIS press office on tel: 18002 020 7215 5945 or email: rachel.clarke@bis.gsi.gov.uk
---
BIS' online newsroom contains the latest press notices, speeches, as well as video and images for download. It also features an up to date list of BIS press office contacts. See http://www.bis.gov.uk/newsroom for more information.
---
Notes to Editors
Contact Information
Name BIS Press Office Job Title
Division COI Phone
Fax
Mobile
Email NDS.BIS@coi.gsi.gov.uk
Published 13 October 2010