Press release
Science Minister hails Wales' role in 'innovation nation' as the 5 millionth Raspberry Pi rolls off South Wales production line
Universities and Science Minister Jo Johnson visits Raspberry Pi's production facility at the Sony Technology Centre in Bridgend.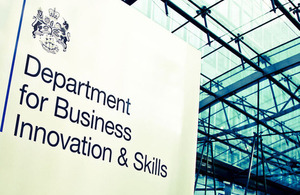 iconic Raspberry Pi mini-computer reaches the 5 million milestone at Bridgend factory
£2.6 million project by Airbus Group, Cardiff University and partners to research protecting aircraft from lightning strikes
UK cities invited to bid into £2 million research fund to become healthier, more prosperous and more sustainable
Universities and Science Minister Jo Johnson today (23 September 2015) hailed Wales' role as part of the 'innovation nation' as he visited Raspberry Pi's production facility at the Sony Technology Centre in Bridgend and unveiled a total of £4.6 million in funding to help fund potentially life-changing research in to the future of cities and modern aircraft.
During a visit to Cardiff University, Jo Johnson announced a £2.6 million project led by Cardiff University and Airbus to help protect aircraft from lightning. Increasing the use of new and advanced materials such as carbon fibre composites in aircraft structures means the aerospace industry needs to fully research their behaviour under extreme conditions. The research will be undertaken in collaboration with the university's Morgan-Botti Lightning Laboratory.
Universities and Science Minister Jo Johnson said:
As a one nation government we are backing science and innovation across the UK. We want to be the best place in Europe to innovate which is why we are investing in Cardiff University's unique project to create new ideas for developing Wales' world-class aerospace sector.

Today I have seen first-hand the exciting technologies being developed at Cardiff University and at Raspberry Pi in Bridgend. This is the kind of expertise we are supporting to safeguard the future success of our economy.
Ian Risk, Head of Airbus Group Innovations UK, said:
This is a key project for the aerospace industry, allowing us to enhance our fundamental understanding of what occurs during a lightning strike on a composite aircraft structure. This funding will be used to improve our understanding of what occurs physically and chemically when a plane is struck by lightning to continually improve the design to be more efficient and economical.
Professor Colin Riordan, Vice-Chancellor, Cardiff University, said:
Universities exist to create and share knowledge and the impact of that on UK society is huge. The research conducted in our Lightning Laboratory is just one example, among many, demonstrating how fundamental research supported by the Research Councils is developed into translational research of real value to the UK through partnership with industry, government and Innovate UK. We are really proud of our long record of industrial collaboration across a wide range of sectors.
The minister also used his visit to encourage Cardiff and other UK cities to bid for a share of the £2 million Urban Living Partnership, which will harness research and innovation expertise to make cities healthier, more prosperous and sustainable places to live.
Up to 5 individual pilot city projects, each led by a consortium of researchers, local authorities, service providers and businesses, will use their diverse experience and expertise to identify, understand and address interconnected challenges ranging from community health and crime to social inclusion and employment.
Mr Johnson also witnessed the production of the 5 millionth Raspberry Pi computer at the Sony UK Technology Centre in Bridgend, as the iconic credit card-sized computer reaches its latest milestone. The mini-computer was developed in the UK to inspire children and adults of all ages to learn about computing and since Sony UKTEC began working with the Raspberry Pi Foundation in 2012, 70 jobs have been created in the Bridgend area with an additional 30 opening by the end of the year.
The visit comes a week after the UK was ranked second in the world in the Global Innovation Index - higher than all its G7 counterparts.
Notes to Editors
In 2013 to 2014, UK government expenditure on research and innovation in Wales by Research Councils, Innovate UK and Higher Education Research Capital, totalled nearly £80 million.
The Airbus and Cardiff University-led project, the protection of structures from lightning strike, is a £2.6 million project (£1.7 million UK government grant) which is receiving funding from the £2.1 billion joint government and industry commitment for aerospace R&D. The project, supported by the Aerospace Technology Institute (ATI) and delivered with Innovate UK, will include the development of new test methods and diagnostic equipment to determine what occurs physically and chemically to produce models of these events. The initial test programme has proved successful and has led to a first patent submission from the consortium. Other partners in addition to Airbus and Cardiff University include Hexcel and the National Composites Centre.
The ATI was created by government and industry to guide investment into research and technology projects that will sustain and enhance the UK's competitive advantage. Its technology strategy, launched in July 2015, defines the best combination of capabilities, technologies and products to advance next-generation civil aircraft; enabling industry to exploit anticipated global growth, and deliver value to the UK economy through the sector's high productivity and skills.
The Morgan-Botti Lightning Laboratory (MBLL), based in Cardiff University's School of Engineering, provides a research and test capability for understanding and enhancing the science of lightning protection. The £2.4 million facility is Europe's only university-based lightning laboratory and is capable of generating controlled lightning with currents up to 200,000 amps, more than 5 times that of an average lightning strike.
The Urban Living Partnership is the first time all 7 UK Research Councils and Innovate UK have come together to address the complex challenges and opportunities of urban living. Bids to the partnership should be led by universities working in partnership with cities and other bodies. Applications should be submitted through the Research Councils' Joint Electronic Submissions system.
Published 23 September 2015