World news story
Science and Innovation Fund – Approved projects
From:

Part of:

Published:

4 November 2015

Last updated:

17 November 2015, see all updates
The Embassy is pleased to announce that 24 out of 128 projects submitted to the Science and Innovation Fund, for an amount of £600.000, were approved. (Information about the selected projects is at the end of this article).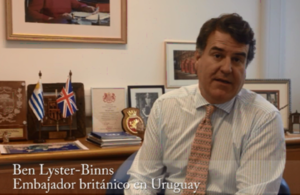 Funds will be used to support proposals under the following categories:
Science and Innovation - Government agencies

Science and research - academic community and Travel Grants

Research institutions - strengthening ties with the UK

Education and Science - innovative approaches to science teaching

Science and society - entrepreneurship and innovation
Ambassador Ben Lyster-Binns and Fernando Brum, President of ANII, the agency that implements part of the fund with the Embassy, recorded the following message for everyone who has applied:
The Queen's Diamond Jubilee Concert
The proposals were considered by external evaluators that implemented the following criteria:
Quality: interest for the investigation area, clarity and coherence.
Impact: possibility to create strong and sustainable links between Uruguay and the United Kingdom in science and innovation, and the relevance of the results for the benefit of Uruguay.
Activities: relevance to the project aim and the possibility of achieving the proposed objective.
Budget: coherence with the presented activities and objectives.
We had hoped to offer feedback on any unsuccessful projects, however given the very high number of proposals received, which greatly exceeded our expectations, this will not be possible.
The main goal of the cooperation funds for Science and Innovation is to create strong links and strengthen those already existing links between researchers and institutions in the UK and Uruguay. It seeks to promote the economic development and welfare of Uruguay through collaboration in science, research and innovation, creating opportunities for greater academic collaboration with the United Kingdom and the strengthening of bilateral relations.
All the proposals should qualify as Official Development Assistance (ODA). ODA has as a primary objective the promotion of economic development and social welfare of developing countries. The following list has the name of the approved proposals, in each of the different areas:
Science and research - academic community
| | |
| --- | --- |
| Title of the proposal | Responsible |
| Synthesis and biological evaluation of macrocycles | Gloria Serra |
| Exploring the use of nanobodies to improve gene-specific vaccines | Gualberto González Sapienza |
| Understanding local translation in neurons in health and disease | José Sotelo |
| Design of a Type-Checking Algorithm for a Nominal Dependent Type System — Towards a Nominal Logical Framework | Nora Szasz |
| Optimization of urban transit and related smart city problems using computational intelligence | Sergio Nesmachnow |
| Massive screening for novel and selective Fasciola hepática triosephosphate isomerase inhibitors." | Guzman Álvarez |
| Implementation of a collaborative research network for studying the beneficial effects of dietary flavonoids in neurodegenerative diseases. | Juan Andres Abin Carriquiry |
| ORTCITY An Automated Framework for Architecturing LargeScale Parallel Computing Software Systems" | Sergio Yovine |
| Anomaly detection in biometry and fraud detection | Alvaro Pardo |
| Strengthening local capacities in gathering and analyzing longitudinal data for social research in Uruguay | Wanda Cabella |
Science and society - entrepreneurship and innovation
| | |
| --- | --- |
| Title of the proposal | Responsible |
| Building a Space to Foster Entrepreneurship at the University of the Republic Engineering Faculty | Pablo Darscht |
Science and Innovation - Government agencies
| | |
| --- | --- |
| Title of the proposal | Responsible |
| LCA for Urban Solid Waste Management in Small Cities of Uruguay | Carlos Saizar |
Research institutions - strengthening ties with the UK
| | |
| --- | --- |
| Title of the proposal | Responsible |
| Image guided surgery: an interdisciplinary approach to optimize surgeries | Juan Pablo Gambini |
Education and Science - innovative approaches to science teaching
| | |
| --- | --- |
| Title of the proposal | Responsible |
| A practical workshop for elementary school teachers on chemistry and climate change | Marcelo Queirolo |
Science and research - academic community- mobility
Responsible
Elizabeth Morosi
Mercedes Rodríguez-Teja
Cristina Zurbriggen
Álvaro Diaz
María Lamas
Cesar Iglesias
Gloria Daners
Javier de Lima Moreno
Paola Scavone
Paula Cardellino
Document information
Published: 4 November 2015
Updated: 17 November 2015
Added translation
Added translation