Schools: UK pupil wins DFID Christmas card competition
Winning artwork will be used to send Christmas greetings around the world on behalf of DFID.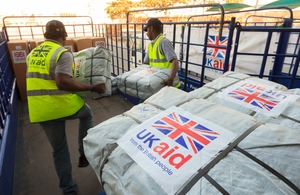 Eight-year-old Zoe Fletcher from Whitchurch CE Primary School in Ross-on-Wye has won an international competition to design a Christmas card for the Department for International Development.
It means that her winning artwork will be used to send Christmas greetings around the world on behalf of the Department for International Development.
The competition was judged by International Development Minister Alan Duncan who said:
"Zoe's design stood out because she clearly grasped that being a global citizen is at the heart of our work. Her design was colourful, visually powerful and made me smile. It's what Christmas is all about."
Zoe's artwork will be produced as an e-card for Ministers and department civil servants to send to counterparts and other contacts this year. DFID has traditionally sent cards to charities, the private sector and other governments at Christmas to demonstrate good will and maintain relationships.
The competition to design the e-Christmas card was sent to schools across the UK and in developing countries. It was run in connection with DFID's school linking scheme, 'Connecting Classrooms' which supports UK schools to form partnerships with schools overseas. The competition, which is in its fifth year, provides an opportunity for children to learn more about global development issues and supports their development as global citizens.
Notes to editors
The Department for International Development invited young people up to the age of 16, who have been involved with DFID programmes through their school, to enter DFID's 2012 Christmas card competition.
DFID has recently launch a new programme called Connecting Classrooms, in partnership with the British Council, to link schools in the UK with schools in developing countries.
In 2010, DFID ministers agreed that the department would only produce and send e-cards and that no cards would be printed, in line with the policy of other government departments.
You can also find out more about DFID's work and how UK aid is changing the lives of the world's poorest at www.dfid.gov.uk/changinglives.
Published 7 December 2012