Press release
Scheme update: Night-time closures on the A14 Junction 7 to 9 at Kettering, Northamptonshire
A series of overnight closures will now take place on the A14 between junctions 7 and 9 at Kettering from Monday 1 September as part of the Highways Agency's ongoing widening work.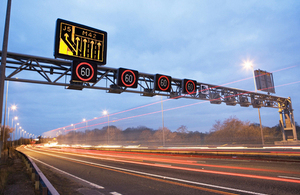 The closures will enable contractors to switch the current contraflow and put the majority of traffic on the new eastbound carriageway. Work can then start to widen the westbound carriageway.
Highways Agency project manager Raymond Chitwanga said:
This is an exciting time in the development of the project as it means the eastbound carriageway is available to traffic and we can now start work on the westbound carriageway improvements.
We advise drivers to take extra care on their journeys during this time as the road layout will be changing considerably and would like to remind them that a 40mph enforcement remains in place throughout the roadworks for the safety of road users and our workforce.
The eastbound carriageway will be closed between junctions 7 and 9 for five nights starting on Monday 1 September. Eastbound traffic will be switched to lanes one and two of the eastbound carriageway on the night of Wednesday 3 September. The westbound carriageway will be closed between junctions 7 and 9 for five nights from Saturday 6 September. During the first night of these closures lane two westbound traffic will be switched to the eastbound carriageway leaving just one lane of traffic on the westbound carriageway.
Closures take place from 8pm to 6am Sundays to Thursdays, 8pm to 8am on Friday nights and 8pm to 9am on Saturday nights During the closures through traffic will be diverted off the A14 at junction 7 and along the A43 and A6116 to re-join the A14 at junction 12, or vice versa. A separate diversion will be in place for local traffic.
This work was due to take place at the end of August, but has been re-programmed to take place in early September. The A14 is an important road that connects the M1 and M6 motorways in the Midlands with the A1, the M11 and the east coast ports near Felixstowe. Because of its links with the port, it is part of the Trans-European Network. The section around Kettering suffers from congestion and poor journey times daily. By improving this section the Highways Agency aims to create smoother and more reliable journeys, contribute to the region's economy and to allow for the increased demand in the area that will occur as a result of the Government's Growth Agenda to develop 40,500 homes in the area.
Further information about the project is available on the scheme's website.
General enquiries
Members of the public should contact the Highways Agency Information Line on 0300 123 5000.
Media enquiries
Journalists should contact the Highways Agency press office on 0844 693 1448 and use the menu to speak to the most appropriate press officer.
Published 27 August 2014