World news story
Sarah Dickson named Humanitarian Ambassador in Guatemala
British Ambassador Sarah Dickson was awarded the prize of "Humanitarian Ambassador of the year".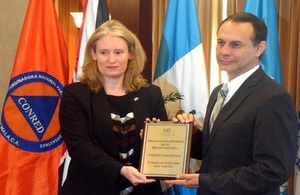 The United Nations System in Guatemala and organizations involved in the provision of humanitarian aid, during a special ceremony to mark the World Day of Humanitarian Assistance, celebrated on August 19 awarded Ambassador Sarah Dickson as "Humanitarian Ambassador of the year.
The Ambassador received the award on behalf of the Department for International Development (DFID) which over the last five years has invested over £18 million (about Q240 million) in Guatemala to strengthen the country's capacity to provide humanitarian aid and emergency response.
Priority areas of UK aid in Guatemala have included fighting malnutrition, improving health, and good governance, poverty reduction through trade and entrepreneurship, and environmental protection.
In 2014 DFID spent Q1.6 million on a six month plan to strengthen the country's capacity to respond to emergencies. This is currently being implemented by the World Food Programme (WFP) and the United Nations Fund for Children (UNICEF), with the participation of local partners such as the Office for the Coordination of Humanitarian Affairs (OCHA), Executive Secretariat of the National Coordinator for Disaster Reduction (Conred), and other agencies of the United Nations deployed in country.
Ambassador Dickson, in her role as Humanitarian Ambassador, used the opportunity to acknowledge the work of other institutions and individuals active in this area. Amongst the winners, she paid tribute to Alejandro Maldonado, director of CONRED and UNICEF Representative Christian Skoog, as well as other partners from civil society and media.
In respect of the activity, Ambassador Sarah Dickson said:
"World Humanitarian Day aims to celebrate the spirit that inspires humanitarian work worldwide. On this day I would like to take the opportunity to thank all the state institutions, international organizations, civil society organizations and individuals involved in humanitarian work in Guatemala for their commitment. The UK has a global commitment to this cause".
Published 19 August 2014