Sappers triumph in annual skiing competition
The North-Germany-based unit was declared the overall champion while the men's 1 Logistic Support Regiment (1 LSR) team won the military patrol…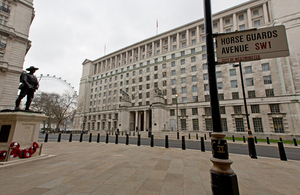 The North-Germany-based unit was declared the overall champion while the men's 1 Logistic Support Regiment (1 LSR) team won the military patrol race - an event designed to test soldiers in all the essential military skills expected of them on operations, including marksmanship, map-reading and physical endurance.
It was the eighteenth year that the Division had held its championships in the French Alpine town of Les Contamines-Montjoie, near Mont Blanc, with many of the 300 competing soldiers and officers being novice skiers.
Exercise Pipedown, as part of the British Army's programme of winter sports, provides an opportunity to hone important skills, enhancing an individual's ability to withstand the rigours of operations and rapid deployments.
It also offers the opportunity for novices and experts alike to ski under international competition rules.
This year's contest, which took place between 7 and 16 January 2012, and also included UK-based personnel, was one of the most eventful; providing a variety of twists and turns during both the Alpine events and the Nordic (cross country).
1 LSR won the Nordic team combination event, while the 1st Regiment Army Air Corps took the honours in the Alpine team combination.
Captain Thomas of 3 Close Support Battalion Royal Electrical and Mechanical Engineers finished as the best individual men's Alpine skier, winning the individual Alpine combination competition, while in the women's Alpine events Major Nikki Jordan of the Royal Army Dental Corps was declared best individual female after completing a clean sweep of victories in the women's Slalom, Giant Slalom, Super Giant Slalom and the Downhill.
Staff Sergeant Walker of 1 LSR won the best individual men's Nordic title, while Sapper Harris of the Royal Engineers Ladies won the overall women's Nordic prize.
Top women's Alpine skier Major Nikki Jordan, aged 34, a five-times-winner of the Combined Services individual ladies skiing title and the Army ladies team captain, said:
It's great to have done so well. I wanted to do as well as I could in these championships and am looking forward to competing in the Combined Services event.
I started skiing when I was about six and have never looked back; Downhill is one of the biggest challenges. Events like this are a great reward for soldiers who are doing a fantastic job, especially during this time of heavy operational commitments. It is a test of courage and overcoming fear.
Major General James Bashall, General Officer Commanding 1 (UK) Armoured Division, who visited the championships and met with many of the competitors, said organising training opportunities such as Exercise Pipedown is part of the Army fulfilling its military covenant with soldiers:
In these days of intense operational commitments, exercises like this give our people a change, which is important for the process of coming down after an operational tour," he explained.

It is incredibly valuable and important - a chance for our people to put their hearts and souls into a different activity; a world away from Afghanistan, maintaining their health and well-being.

This is a valid military activity which develops all the traits we expect soldiers to have on operations, such as good marksmanship, fitness, co-ordination, teamwork, leadership and organisation, courage, boldness and co-operation - but Pipedown is also a chance for soldiers to enjoy themselves.

The Army promises a life of adventure and opportunity. This is one of those opportunities.
Published 20 January 2012