Santa swaps sleigh for helicopter
Helicopters of the Defence Helicopter Flying School (DHFS) have assisted local schools by providing 'Santa Drops' with their helicopters. The…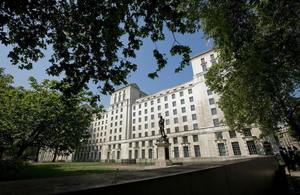 Helicopters of the Defence Helicopter Flying School (DHFS) have assisted local schools by providing 'Santa Drops' with their helicopters. The crews transported 'Santa' to various schools and hospitals in the run up to Christmas.
Each of the flights provided vital training for the crews, who were able to fly their helicopters into and land in areas they would not normally be able to utilise.
In the run up to RAF Shawbury closing down for Christmas, helicopters have carried Father Christmas to St Mary's Primary School in Shawbury, and Shawbury Village, as well as to Meole Brace, Oakmeadow, Longlands, Rosymeadre, Alexandra, St John the Baptist, Oxon, Newtown, Holmer Lake, and Myddle Primary Schools, and Hazels' Farm Nursery.
A crew from the Central Flying School (Helicopter) provided a Santa Drop into Hope House Hospice. The Squadron has excellent links with the Hospice and raises money for it each year.
In addition to visiting local schools, a crew from 60 (Reserve) Squadron of the DHFS assisted the RAF Careers Office in Liverpool by flying Santa to the Royal Manchester Children's Hospital on Friday 16 December 2011.
The intention was to also fly into Alder Hey Children's Hospital in Liverpool, but unfortunately, they were beaten by the weather and had to drop Santa off in a field near Manchester to continue his journey by road. Santa was assisted in giving out presents to sick children by members of staff from the Careers offices in Liverpool and Manchester.
Sergeant Steve Wright, from the RAF Careers Office in Liverpool, said:
Our aim is to raise morale amongst the children in hospital over Christmas by delivering Christmas presents in a way only the RAF can.

The presents are bought by charitable donations from RAF personnel serving at various RAF stations from around the UK.

This is the seventh year the RAF have arranged this event and last year's was a resounding success, bringing a smile to many children's faces.
Alwyn Hughes, Head of Children's Services at Royal Manchester Children's Hospital, said:
Our young patients really enjoy the chance to have a word with Father Christmas, and the gifts he brings - with the generous support of the RAF - really do spread Christmas cheer and brighten up their day.
Irene Axon, from the Imagine Appeal at Alder Hey, said:
This visit is one of the highlights of the year as the children get so excited when Santa arrives with a sack full of presents. It's particularly poignant, given their commitments overseas, that these service men and women give up their very valuable time to visit sick children in Alder Hey - we are enormously grateful for their support.
Squadron Leader Neil Hope, Community Relations Officer at RAF Shawbury, said:
These flights bring to a close a busy year for the DHFS. Over the year they have provided support across the region to shows, fetes, schools and many other events.
"These flights allow us to say thank you to the people of Shropshire and the neighbouring counties for being so supportive of our operations whilst also allowing important training for our crews in planning and flying into new areas."
Published 20 December 2011