World news story
Sandhurst trains Pacific Nations
Instructors from the Royal Military Academy Sandhurst spend the week training officers from Pacific nations in the Psychology of Leadership and Media Operations.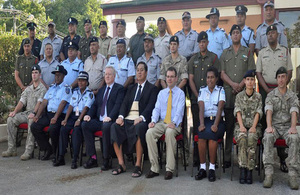 Instructors from the Royal Military Academy Sandhurst have spent the week training officers from Pacific nations in the Psychology of Leadership and Media Operations. The officers on the course come from the army, police, fire, prison service and the Departments of Foreign Affairs in Tonga, Fiji, Solomon Islands, New Zealand and the United Kingdom.
The course, organised by UK Defence Adviser Lt Col Tim Woodman were held at the headquarters of His Majesty's Armed Forces in Tonga.
Lt Col Woodman said:
The Kingdom of Tonga has opened her doors to the development of the Security and Emergency Services across the Pacific. As the Kingdom prepares for the coronation of the King in July, Tonga is attempting to become a regional centre for training in the Pacific.
The Psychology of Leadership course is based on the Sandhurst syllabus and pushes students to examine their own leadership style and how they can improve command in their respective organisations.
The Media Operations course considers how military and civilian organisations can improve their relationship with media. This course particularly examines the role of government organisations and the media at times of crisis. The week culminates with a decision making and media based exercise based on a United Nations operation.
Course Lecturer Dr Stephen Deakin said both the courses are demanding and designed to challenge the students. The officers of the Pacific Nations are undoubtedly high calibre and quickly rose to the challenge. It was not just about Sandhurst teaching the Pacific Nations, indeed the instructors have learnt a great deal from each of the students,he said.
The Crown Prince of Tonga also attended the Media Operations Course. He is following in his Uncle, the late King's footsteps in maintaining the Royal Family connection with Sandhurst. His Uncle was a student at Sandhurst in the late 1960s before serving in the King Royal Hussars.
Lieutenant Colonel Lord Vahalla, media officer for the HMAF praised the instructions from Sandhurst. He has already used the students to prepare press releases on the Tongan Patrol Boat deployment in support of the International Relief effort to the Tropical Cyclone PAM. He said before the course started they did not know the power of the media. Now we know we can use it to tell good news stories on the back of a disaster, he said.The course also exposed participants to the local media.
The courses finish this Friday, 11 April 2015 with a full military parade at Mansfield Navy Base. The certificate presentation ceremony will be concluded with the traditional Pacific island kava ceremony where both the students and instructors will join together in friendship as they share the coconut shell of local grog.
Later this month The Royal Navy will be running an Economic Exclusive Zone course in Fiji which will be opened up to many of the Pacific island nations.
Published 9 April 2015