Sami Yusuf on tolerance and creative freedom in Britain
In a short film launched today, Tehran-born singer-songwriter Sami Yusuf discusses tolerance and freedom of expression in the UK.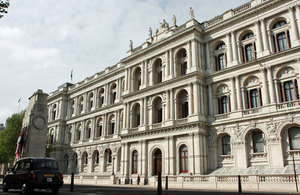 The film is one in a series featuring individuals from home and abroad talking about their experiences of modern Britain in the run up to the London 2012 Olympic and Paralympic Games.
Tehran-born Sami Yusuf is a British Muslim, Singer-songwriter, composer, producer and musician. In the short film below, he talks about the universality of music and how it can help bring people together.
Sami Yusuf
Sami is proud of the fact that London has had a huge part to play in his musical journey, from classical music, to operas, to the West End. He says of London, "This is the hub" - the sounds and experiences of the UK's capital have influenced his creativity and helped shape his unique approach, aimed at using music to unite the world.
"I am who I am because of my upbringing…because of London" says Sami, "it's a fantastic place…it makes you cool." He treasures the UK's values of tolerance and freedom, where individuality is respected and people are able to express themselves as they wish to, and create their own ideas. This freedom helped Sami to recognise people's common humanity, and to define his music for himself.
Sami has performed all over the world, and has raised millions for those in need. He performed at the Live8 concert in Wembley Arena, raising millions for the victims of Dafur, and also worked to support victims of the 2010 Pakistan floods by releasing a charity single. His spiritually inspired music has been acclaimed by people across the Middle East, America and Africa.
Sami studied at the Royal Academy of Music, and was awarded an honorary Doctorate of Letters from the University of Roehampton in south-west London in recognition of his extraordinary contribution to music. He has also been recognised by the United Nations, having just been made a UN Peace Ambassador. "If I can help bring people closer together," he says, "that's something that will make me happy, make me sleep comfortably at night."
Published 21 December 2011