News story
Sally Balcombe, Ian McCaig and Steve Ridgway appointed as Board Members of VisitBritain
Tourism Minister Hugh Robertson appoints new trustees of British tourism promotion organisation.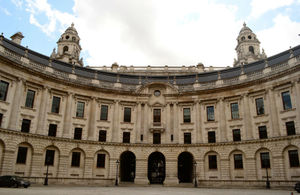 The Rt Hon Hugh Robertson MP has appointed Sally Balcombe, Ian McCaig and Steve Ridgway as Board Members of VisitBritain for 5 years, from 1 July 2013, 13 February 2014, and 11 July 2013 respectively.
Christopher Rodrigues, Chairman of VisitBritain said:
I am delighted that we have attracted three new board members with exemplary careers in tourism and very relevant experience to add to the VisitBritain Board.
Our relationships and partnerships with airlines are a key component of our strategy. Steve Ridgway will add immensely to our knowledge of what matters to them. At the same time Ian McCaig's knowledge of the online travel agency world coupled with Sally Balcombe's knowledge of Global Distribution Systems are invaluable as VisitBritain develops strategies to support British tourism, a vanguard digital industry.
Biographical details
Sally Balcombe
From 2008 to 2011 Sally Balcombe was Chief Marketing Officer for Travelport GDS, responsible for all aspects of the marketing mix: the product portfolio with specific ownership of product strategy and management; strategic pricing; market strategy and research; brand; and websites and marketing communications globally. Before joining Travelport, Sally held a number of senior international roles in the travel industry, most recently as Commercial and Product Director at Opodo, the pan-European on-line travel agency set up by the major European airlines (2004-2006). Prior to that, she held the roles of Managing Director of the TUI-owned Specialist Sun Holiday Group, bringing together six separate brands (2001-2003), and Managing Director of British Airways Holidays, which operated in 75 markets worldwide (1990-2001). Sally is currently advising a number of sectors, primarily focusing on travel, on their multi-channel and digital strategies. She also sits as a Non Executive Director of two online travel businesses. She holds no other public appointments.
Ian McCaig
Ian McCaig is Chief Executive at First Utility, the largest independent energy retailer in the UK. This follows a career with lastminute.com, the online travel agent and e-tailer, where he was Chief Operating Offier from 2003-06 and Chief Executive from 2006-11. In this role, he led the successful integration of lastminute with Travelocity Europe and steered the company through its most successful years. Before this, he worked in telecommunications, first with Telewest and then from 1997 with Nokia, where he led the launch of some of the world's first commercial 3G networks. He holds no other public appointments.
Steve Ridgway
Steve Ridgway is Non-executive Chairman of StartJG, an international brand agency, following 13 years as Chief Executive of Virgin Atlantic Airways.
He began his business career at Sir James Goldsmith's Cavenham Foods and later joined the Toleman Group, as Business Development Manager (1979-81). When the company bought Cougar Marine (1981-85) he became General Manager based in Miami. On return to the UK he became the Project Head and Chief Pilot of the two 'Virgin Atlantic Challengers', the boat in which he re-captured the fastest crossing of the North Atlantic 1986.
He remained close friends with Richard Branson and formally joined Virgin Atlantic as Managing Director of Virgin Freeway creating the UK's first fully automated frequent flyer programme (1989-94).
His career with Virgin progressed rapidly becoming Managing Director of Virgin Atlantic Airways in 1998 and Chief Executive, one of the highest-profile roles in the airline industry from 2001-2013.
Background
VisitBritain is the national tourism agency, responsible for marketing Britain worldwide & developing Britain's visitor economy. It is a non-departmental public body sponsored by the Department for Culture, Media and Sport (DCMS). In 2012/2013 its grant-in-aid was £24.6 million but it also received additional monies for the GREAT campaign. With a statutory duty to advise Government on matters affecting tourism in Great Britain, VisitBritain has undertaken a series of assessments of Britain's competitive tourism position identifying strengths and weaknesses, and is now developing a Tourism Strategy for Britain on which the industry, Government, public diplomacy bodies and the national tourist boards can work together. The aim is to attract 40 million overseas visitors by 2020, spending an additional £13 billion per annum.
The Board of VisitBritain is appointed by the Secretary of State, and the process follows the OCPA Code of Practice. Board Members receive £9,435 per year, and are expected to devote approximately two days per month to the task, on average.
All public appointments are made on merit and political activity plays no part in the selection process. However, in accordance with the original Nolan recommendations, there is a requirement for defined political activity in the last five years to be made public. Sally Balcombe, Ian McCaig and Steve Ridgway have each declared no such political activity.
Published 5 August 2013