Salford hosts Indonesian film-making study tour
Salford Professional Development Ltd and LSPR Jakarta are jointly hosting a spring study tour programme for Indonesian media students.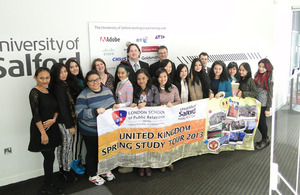 Salford Professional Development Ltd and the London School of Public Relations (LSPR), Jakarta, Indonesia, are jointly hosting a spring study tour programme in Manchester and London in April for Indonesian media students.
Running from 8 April, the tour will include opportunities for the students to attend film-making classes and use the facilities at the University of Salford's state-of-the-art MediaCityUK campus, taught by industry experts who regularly pitch winning formats to the top decision makers in the UK's leading TV channels.
Attendees will also visit the BBC's MediaCityUK studios and have their work screened, as well as having the chance to enjoy cultural experiences and sight-seeing in Manchester and London, including a visit the Manchester United's Old Trafford stadium plus historical sites in London such as Buckingham Palace and Big Ben.
The course has come about through the links that both organisations have with Government body UKTI (UK Trade & Investment). LSPR Jakarta is a graduate school of communication offering an undergraduate and postgraduate programme, and was established in 1992 by director Prita Kemal Gani, MBA, MCIPR, APR.
It has produced more than 14,000 alumni from both undergraduate and postgraduate programmes and has received recognition as the 'Best Graduate School of Communication' from the Indonesian media. It is dedicated to producing high quality and skilful communication graduates through an interactive learning environment and research structure.
Katrina Tan, Director of International Relations & Partnerships, LSPR Jakarta, said:
We are delighted to come to the UK to work with the University of Salford. Students will certainly gain invaluable experience using hi-tech equipment and learning from professionals in the TV & film-making industries. The MediaCityUK venue is truly world class and we look forward to our students taking the cutting edge techniques back to Indonesia.
Deputy CEO of Salford Professional Development Ltd, Stuart Wells, commented:
It is a great pleasure to welcome The London School of Public Relations Jakarta to the University. The Television Production course will provide the students with an exceptional opportunity to work with media professionals using top-of-the-range industry technology in our digital media campus based at the heart of MediaCityUK.
Our aim is that the students will learn, experiment, develop new skills and improve their opportunities in digital and media careers. I would also like to praise the excellent work UKTI has undertaken in setting this collaboration up.
Philomena Chen, Head of Asia Pacific Development for UKTI Northwest, said:
The link between LSPR Jakarta and the University of Salford is an excellent approach to forge further relationships in the field of hands-on vocational training programmes in the creative industry between the UK and Indonesia, and providing mutual employability support.
Further informaiton
Published 19 April 2013