Press release
Safety improvements for the A23 in East Sussex
Drivers on the A23 in East Sussex will benefit from safer journeys as a result of lighting maintenance starting on Monday (10 March).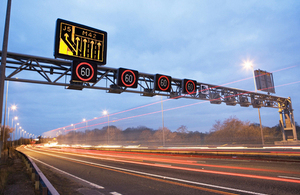 More than 50 light columns will be moved and the new columns will feature a safer design. Ahead of this, technology work will maintain 120 lights in the area to prolong the life of the system.
The work will all be carried out overnight and involve carriageway and lane closures. It is expected to be completed on the morning of Thursday 17 April.
Peter Phillips, Highways Agency Asset Manager said:
Safety is a top priority for the Highways Agency. The lighting along this section of the A23 needs to be maintained and we are taking this opportunity to relocate 56 columns further away from the carriageway to reduce the likelihood of them being hit by vehicles.

The work has been planned to take place overnight, when we know that traffic flows are at their lowest, to minimise disruption. We would advise anyone wishing to use the A23 to plan their journeys and allow extra time.
The work will be carried out overnight, between 8pm and 6am.
To carry out the infrastructure repairs, overnight carriageway closures will be required - with one lane on the opposite carriageway also closed - between Pease Pottage and Bolney as follows:
Monday 10 to Tuesday 18 March: southbound carriageway
Wednesday 19 to Tuesday 25 March: northbound carriageway
Tuesday 1 to Friday 4 April: northbound carriageway
A fully signed diversion will be in place via the A264, A24 and A272.
The lamp columns will be relocated along the southbound A23 between Bolney and Hickstead using overnight lane closures from Monday 24 March until the morning of Thursday 17 April. The lights were originally installed over 20 years ago and will now be moved further away from the carriageway in line with current safety standards. When work is taking place near to a slip road it may be closed with a fully signed diversion to the next available junction.
General enquiries
Members of the public should contact the Highways Agency Information Line on 0300 123 5000
Media enquiries
Journalists should contact the Highways Agency press office on 0844 693 1448 and use the menu to speak to the most appropriate press officer
Published 7 March 2014