Safer clean-up for workers wearing airfed suits
Two new developments are making it safer for workers taking apart some of the most hazardous facilities at Dounreay.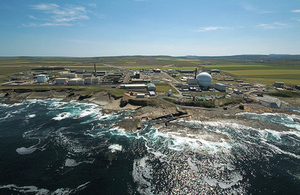 Site closure contractor DSRL worked closely with the Office for Nuclear Regulation on new guidance published today on the use of airfed suits across the nuclear industry.
The suits are designed to protect workers from inhalation of radioactive material during the clean-out hazardous facilities.
The guidance brings together the experience of sites like Dounreay with extensive research carried out by the Health and Safety Laboratory.
Workers in airline suits make up to 2000 entries in a typical month to clean out redundant plant at Dounreay before it can be demolished.
Pete Thompson, radiological assurance manager at Dounreay, says the site is compliant with the new guidance.
"We welcome the adoption of best practice from across the industry in the new guidance," he said.
"We share the same objective – to decommission redundant facilities without harm to any individual doing the work."
New guidance on airfed suits: Reducing the risks to nuclear industry workers – ONR
Meanwhile, Dounreay is moving to a new type of airline suit that will improve protection standards further.
The new one-piece suit has many advantages, says Alisdair Burnett, radiological personal protective equipment manager at DSRL.
"Its simpler to put on and take off, and it provides superior body cooling," he explained.
The new suit doesn't just make the process safer – it will also save the taxpayer money.
It's been bought under a bulk-buying arrangement across the NDA estate that will save £4 million on purchase costs at Dounreay.
"The suit is made in two versions," says Alisdair.
"The basic design has an air outlet to a breathing zone. There is also the option to use an internal air-fed respirator, which gives enhanced protection during undressing from high hazard work."
An early version of the one-piece suit was used during the latter stages of decommissioning the Pulsed Column Laboratory after a number of contamination alerts in the early phases.
DSRL took advantage of a nationwide procurement framework developed by the NDA to secure a supply of the new suits, saving DSRL and the NDA an estimated £400,000 a year.
Published 14 June 2012