News story
Safeguarding training for faith groups
Over 1,000 people have already attended training sessions delivered by the DBS and CCPAS partnership!
This news article was withdrawn on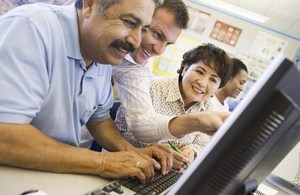 The Disclosure and Barring Service (DBS) has teamed up with the Churches' Child Protection Advisory Service (CCPAS) to train churchgoers in understanding new regulations brought in by the Protection of Freedoms Act (2012).
The partnership works with CCPAS delivering 'Facing the Unthinkable' training road shows and the DBS delivering a follow on session to inform of regulations and legislation.
The DBS sessions include:
background to the organisation and current safeguarding legislation
how the DBS works, its statutory obligations and decision making process
explantions of key definitions including 'risk of harm' and 'regulated activity'
guidance on how to refer individuals
Training is aimed at recruiters, trustees, church leaders and all others involved in recruiting people to work with children and adults in churches and other places of worship.
Lyn Gavin, Partnership Engagement Lead at the DBS, commented: "We are delighted at the success of this new training initiative. Churches and other faith groups are one of our key target audiences. Teaming up with CCPAS in this way has enabled us to reach over 1,000 people, already, in just nine months. We could not possibly have achieved that figure without working so closely with CCPAS, and we are now confident we will, together, reach thousands more in the months and years to come".
Simon Bass, CEO of CCPAS, said: "We are hugely encouraged by the response from churches of all traditions and denominations to this opportunity to learn more about the all-important subject of safeguarding, the DBS and the statutory regime that underpins it. We hope and trust that, wherever we go in the UK, more and more churchgoers will take advantage of this training to be better equipped to safeguards the children and vulnerable adults in their care".
The full list of dates and venues for the 'Facing the Unthinkable' and DBS follow on sessions are available on the CCPAS website.
Published 24 September 2013