News story
Safeguarding the future of Royal Mail and the Post Office
The Government has today put plans before Parliament to protect two cornerstones of British life - the Royal Mail and the Post Office. The …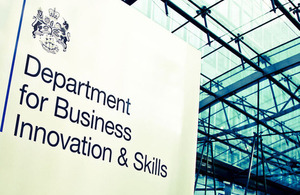 The Government has today put plans before Parliament to protect two cornerstones of British life - the Royal Mail and the Post Office.
The Postal Services Bill will be scrutinised and debated by the House of Commons in the coming months, before being considered by the House of Lords.
The Government has made the following proposals:
Royal Mail
The requirements of the universal postal service - collection and delivery of post six days a week at uniform, affordable prices are written into the Bill. The Government has no intention of downgrading them.
Royal Mail will be able to benefit from an injection of private capital - ending the dependence on funding from the taxpayer and bringing new commercial disciplines into the business.
Alongside private sector investment:

At least 10% of the shares in Royal Mail will go to its employees in the future. This will be the largest employee share scheme of any privatisation, larger than British Telecom, British Gas or British Airways.
Royal Mail will be relieved of its enormous historic pension deficit by the Government.

As part of a general reform of the regulatory regime for mail, the existing regulator, Postcomm, will be replaced by Ofcom, the communications regulator, with the Bill providing for the transfer of Postcomm's regulatory responsibility and its staff to Ofcom.
Post Office
The network of 11,500 Post Office branches is not for sale and there will be no further programme of closures.
Could be converted into a mutual structure as part of innovative new plans to hand the ownership and running of the Post Office to employees, sub postmasters and local communities.
Publishing the Bill Business Secretary Vince Cable said:
"Royal Mail and the Post Office are cornerstones of our society. My policy is to put them on a stable footing for the future.
"Royal Mail is in a difficult position - there is no hiding from the facts: mail volumes falling; a multi billion pound pension deficit; less efficiency than its competitors and an urgent need for more capital at a time when there are huge constraints on the public purse.
"The company now has to go further and faster to innovate, modernise and adapt better to the digital age - that requires substantial investment. This investment needs to be delivered by the private sector, particularly in light of the huge public sector deficit.
"This is an important package. It will secure the services that consumers and businesses rely on. It will give employees a stable company to work for, shares in the future of the business and the secure pension they deserve. It will remove the risk to taxpayers of an expensive bail out.
"The Post Office is a separate business. It is not for sale and there will be no further programme of closures. We will break the cycle of declining visitor numbers through new ideas and new services to win back customers.
"New ideas like converting the Post Office into a mutual structure in a similar manner to the John Lewis Partnership or the Co-operative Group. Handing the ownership and running of the Post Office over to employees, sub postmasters and communities - empowering the people that know it best."
---
Notes to editors
Notes to Editors
Contact Information
Name BIS Press Office Job Title
Division COI Phone
Fax
Mobile
Email NDS.BIS@coi.gsi.gov.uk
Name Henry Tanner Job Title
Division Department for Business, Innovation and Skills Phone 020 7215 5947 Fax
Mobile
Published 13 October 2010