Russian trade mission aims for export boost
Trade and Investment Minister Lord Green and CBI Director-General John Cridland are leading a mission of 25 mid-sized businesses to help to …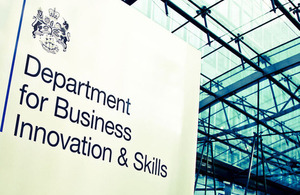 Trade and Investment Minister Lord Green and CBI Director-General John Cridland are leading a mission of 25 mid-sized businesses to help to strengthen business ties and offer a potential boost to UK exports.
They will visit Moscow and St Petersburg, where they will meet key figures from the Russian Government and business community. The UK companies, including Delcam, TAP Biosystems, Fiberweb, BOCM PAULS LTD and Mivan, will have the opportunity to gain useful knowledge of the market and engage with potential commercial partners.
Trade and Investment Minister Lord Green said:
"Russia is our fastest growing major export market and, with 140 million consumers looking for quality British products and services, it offers great opportunities for British businesses. **Important steps such as Russia's accession to the World Trade Organisation are making it easier for British firms to do business there.
**"The London Olympics showed the UK delivering an outstanding summer of sport on time and on budget. Now is the time for British businesses to build on this legacy and assist Russia in achieving its **ambitious economic **modernisation and infrastructure development goals.
**"With this trade mission we are targeting new export opportunities for Britain's mid-sized businesses in an important market. Building on National Export Week earlier this month, we're keen to make strides in reaching our target to get another 100,000 UK firms exporting by 2020, helping to secure long-term and sustainable economic growth."
John Cridland, CBI Director-General, said:
"Opportunities for British business abound in this fast growing market, from energy to life sciences to helping deliver the major sporting tournaments that Russia will be hosting in the coming years.
"We've identified a potential £30 billion export prize by 2020 if the UK creates the right business environment for our industries to thrive, and mid-sized businesses will be at the heart of this."
Russia is a significant trading partner for British businesses, with more than 600 UK companies already operating there and UK exports totaling £5 billion. **In the last two years, the value of British goods exported to Russia has increased by over 80%. This is expected to grow further as Russia opens its economy up to more international trade and investment.
**Notes for editors
**1. The trade mission to Russia will take place over 26 - 29 November and will be led by Trade and Investment Minister, Lord Green, and John Cridland, Director-General of the CBI. The mission is taking 25 UK based businesses and will focus its efforts to strengthen the understanding of the commercial environment in Russia and boost trade and investment links. Updates on the visit, including the latest news, video clips, interviews and blogs will be able to be found via the UK Trade & Investment (UKIT) website www.ukti.gov.uk and on www.cbi.org.uk
This mission follows the Prime Minister's visit to Moscow in September 2011, in which he led a delegation of 24 UK companies.

The mission brings together the UKTI and the CBI to improve the performance of mid-sized businesses, announced as part of the Autumn Statement last year. Lord Green and John Cridland led the first mid-sized business trade mission to Turkey in April 2012.

Britain's mid-sized business sector (those with an annual turnover between £25-£500 million) represent 0.2% of UK firms, but accounts for around one fifth of private-sector employment and turnover.

UKTI defines Russia as a high growth emerging market. Russia is now the UK's 11th biggest export market. UK exports to Russia totalled £4.8 billion in 2011, and are increasing faster than exports to any other country in the UK's top 40 export markets.

Specific 'High Value Opportunities' include the 2014 Winter Olympics; the 2018 FIFA World Cup; the Skolkovo Innovation Hub; Russia's aspirations for Moscow to become an International Financial Centre; and Russia's railways modernisation programme.

Business Opportunities in Russia:
Russian railways investment programme: The railway station modernisation programme envisages the redevelopment of 332 stations by 2015. Opportunities worth an estimated value of £450 million are available for companies in transport, construction and services, and UK companies are already bidding for some of this work.
Skolkovo Innovation Hub: This innovation park on the outskirts of Moscow is being developed to house up to 30,000 residents and act as a hot-bed for businesses in high-tech sectors. On the same site, infrastructure for a city of over 30,000 residents is being constructed, alongside a new Institute of Science and Technology, offering a range of post-graduate programmes and exchanges. UK firms in sectors including construction, aerospace, energy, ICT, pharmaceuticals and healthcare are well-placed to win contracts up to an estimated value of £300 million.
2014 Sochi Winter Olympic Games and FIFA World Cup 2018: Construction, services and transport contracts worth over £2 billion companies are available, and firms in supporting sectors such as hospitality and retail will also have opportunities to capitalise on increased tourism to Russia.
Life sciences: A draft national strategy on drug procurement, including new pricing rules, is expected to be announced by the end of the year and may enable greater access for UK pharmaceutical companies to the Russian market.
**Financial and professional services: **Moscow is already home to over 600 banks and is one of the world's top ten centres for derivatives trading. The Russian government aims to cement Moscow's position as a leading city in the global financial system through the 'Moscow as an International Financial Centre (MIFC)' initiative. Almost 80% of Russia's financial resources are transacted through the City of London, which is working through TheCityUK with the MIFC initiative, and there are major opportunities for UK-based companies in the financial and professional services sectors to raise their profile in Russia.
**Oil and gas: **Russia is the second largest oil producing country in the world, with up to 14% of the world's proven oil reserves, and it is the world leader in the gas sector with an estimated 35% of known world reserves. An estimated £14-16 billion will need to be invested annually to develop Russia's oil and gas industry, including for the new offshore oil projects, so there are lots of opportunities for UK expertise and investment.
**Mining: **Russia is one of the most mineral rich countries on earth, ranking first globally for nickel production, second for aluminium production, in the top three for platinum, gold, diamond, iron ore and coal production, and fourth for steel production. There are opportunities for UK companies to supply both machinery and consultancy services to support the development of this industry.
**Advanced engineering and manufacturing technologies: **Russian heavy industry is in urgent need of modernisation, with an estimated 70% of existing capital assets outdated. Annual market demand for new metal machining equipment is over 50,000 units. Domestic suppliers meet less than 1% of the internal need, so the market relies heavily on imports of technologies, tools and machinery for sectors including aerospace, automotive, shipbuilding, transport, power engineering. UK exporters are well-placed to increase their sales of this equipment to the Russia marketplace.
Retail and giftware: The Russian clothing, footwear and accessories market was estimated at £37 billion in 2010, 65% of which was clothing. Year-on-year growth of 15% is expected for the coming period, offering major opportunities for British companies. For giftware products in particular - from tableware and fine jewellery to home decoration items - the market is heavily dominated by imports and British firms are already doing well in the upper and luxury end of the market.
**Food and drink: **Russia is the fastest growing market for food and drink in Europe and is expected to become the continent's largest by 2015. The sector relies heavily upon imports (up to 70%), with the top 10 Russian retailers together accounting for only 10% of total food and drink retail. In particular, there are opportunities for producers and retailers of specialist food and drinks, including organic foods, special dietary foods, convenience products, gourmet foods, and light alcoholic drinks (for example, Cider).
The CBI is the UK's leading business organisation, speaking for some 240,000 businesses that together employ around a third of the private sector workforce. With offices across the UK as well as representation in Brussels, Washington, Beijing and Delhi, the CBI communicates the British business voice around the world.

UK Trade & Investment (UKTI) is the Government Department that helps UK-based companies succeed in the global economy. We also help overseas companies bring their high quality investment to the UK's economy - acknowledged as Europe's best place from which to succeed in global business. UKTI offers expertise and contacts through its extensive network of specialists in the UK, and in British embassies and other diplomatic offices around the world. We provide companies with the tools they require to be competitive on the world stage. For more information on UKTI, visit www.ukti.gov.uk or visit the online newsroom at www.ukti.gov.uk/media.
Media Contact:
CBI Press Office on 020 7395 8239, or out of hours pager on 07623 977854, email: press.office@cbi.org.uk. Follow the CBI (@CBItweets) on Twitter.
Notes to Editors
Contact Information
Name BIS Press Office Job Title
Division Department for Business, Innovation & Skills Phone
Fax
Mobile
Email bispress.releases@bis.gsi.gov.uk
Name Alex. Hamilton Job Title
Division Department for Business, Innovation and Skills Phone 020 7215 5976 Fax
Mobile
Published 27 November 2012