Rural Payments Agency needs radical improvement
The Review considered the current state of the Agency as well as its readiness for a changed Common Agricultural Policy (CAP) after 2013.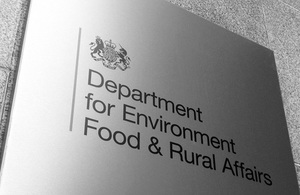 The Rural Payments Agency must change to deliver better value for money and a better experience for its customers, Agriculture Minister Jim Paice said in response to an independent review of the organisation and its operations.
The Review, which was announced by Defra in September 2009 and headed by David Lane, considered the current state of the Rural Payments Agency (RPA) as well as its readiness for a changed Common Agricultural Policy (CAP) after 2013.
The Review's key findings are that:
RPA's finance functions and controls need to be strengthened;
there are significant opportunities to provide a better quality of customer service and deliver efficiencies through improvements in the operational processes;
that a significant opportunity exists in developing new IT systems for post 2013; and
there was a lack of appropriate governance and oversight from within RPA leadership and Defra.
Jim Paice said:
"There are some very tough messages for both Defra and RPA in the Review, and there are some tough decisions to be made. Our goal is a resilient Rural Payments Agency that is responsive to its customers and that represents good value for the taxpayers' money invested in it.
"In an extremely tight financial climate, we need to look radically at its operations and drive for efficiencies. Following the principle that Government should only do the things which only Government can do, we will look at some of the options identified by the Review of how these services can best be provided.
"I'm going to drive these improvements personally, by chairing RPA's Oversight Board to oversee the agency's operations and its preparations for 2013.
"There is a lot of change ahead, but in implementing that change my top priority will be to maintain front line operations and levels of service to the Agency's customers."
Mr Paice set out four priorities for action:
Delivering improvements to customer experience through improving the accuracy of the Agency's information, while maintaining an acceptable speed of payments.
Ensuring that the Agency is focussed on improving value for money, aggressively pursuing efficiencies whilst balancing the need to provide a good service to farmers.
Ensuring that the Agency becomes a more efficient operation, getting the basics like financial controls and accounts right.
Making essential preparations for the new schemes which are likely to be introduced after the 2013 Common Agricultural Policy reform negotiations.
Notes
Published 20 July 2010