Running the Bath Half for charity
A CNC officer based at Hinkley Point is running the Bath half marathon this month, to raise money for the Miscarriage Association.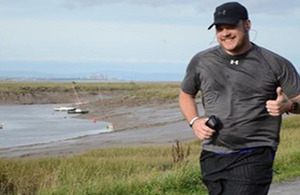 PC Mike Frost is tackling the 13.1 course on 12 March. It is the second time he has taken part and is training hard to beat last years' time of 2 hours 32 minutes. He is raising money for the Miscarriage Association, a charity founded by a group of people who had experienced miscarriage which aims to offer support and information to anyone affected by the loss of a baby in pregnancy and to raise awareness. Find out more from their website.
PC Frost said: "I've been training towards the Bath Half for some time now, which has had the added bonus of making my fitness test in February seem a lot easier than on previous occasions! Being able to use the gym on site has also been a great help, especially as I have a six-month old baby at home whose demands mean getting to a gym outside of work is a distant memory!
"I am raising money for the Miscarriage Association, as prior to the arrival of our beautiful son, we suffered three miscarriages. The charity offered invaluable support to both me and my wife at this extremely upsetting and difficult time and last year I raised over £1,500, which was one of the largest donations the charity had received. I have a more modest goal this year of £250 but would appreciate any support you can give."
To sponsor Mike in his fund raising efforts, visit his Just Giving page.
Published 2 March 2017