News story
Runaway trolley on the East Lancashire Railway
Investigation into the runaway of a trolley on the East Lancashire Railway north of Ramsbottom station, 15 March 2018.
This news article was withdrawn on
This item has been moved to the National Archives as RAIB has published its report describing this incident. See report 18/2018.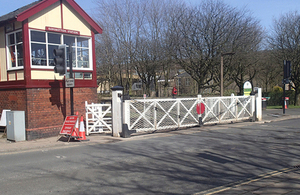 At around 11:15 hours on Thursday 15 March 2018, a group of track workers were working in a possession on the East Lancashire Railway north of Ramsbottom station. They were using an un-braked trolley to transport ballast over the prevailing gradient in that area, which is between 1:264 and 1:140. In order to prevent it running away while being loaded, pieces of ballast were used as improvised scotches.
After being loaded with approximately 0.5 tonnes of ballast, the improvised scotches were removed and three members of the team began to move the trolley southwards, downhill towards Ramsbottom station. Shortly after this the trolley began to run away and the track workers were unable to stop it.
The trolley continued south until the level crossing immediately north of the station. The wooden gates at the crossing were closed across the railway allowing road traffic to pass. The trolley struck the gates and derailed, damaging and displacing one of the gates into the road and spilling ballast onto the road. Although the road was open to traffic no one was injured.
The RAIB's investigation will determine the sequence of events and include consideration of:
the planning of the work and actions of those involved
the training and competence of those involved
the management of the condition and use of trolleys on the railway
any underlying management factors
Our investigation is independent of any investigation by the railway industry, or by the industry's regulator, the Office of Rail and Road.
We will publish our findings, including any recommendations to improve safety, at the conclusion of our investigation. This report will be available on our website.
You can subscribe to automated emails notifying you when we publish our reports.
Published 10 April 2018