World news story
Rugby World Cup Trophy Tour in South Africa
The Webb Ellis Cup catches up with some old friends during visit to South Africa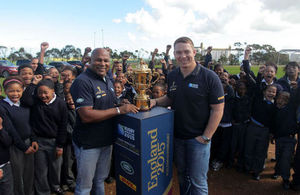 The Webb Ellis Cup has completed a memorable journey around South Africa as part of the Rugby World Cup Trophy Tour.
The fifth leg of the Trophy Tour saw the Webb Ellis Cup reacquainted with a host of Rugby legends who have previously lifted the iconic Trophy.
Previous winners, which included some of the great names in South African Rugby, lined up to have their moment with the Webb Ellis Cup which has come to represent one of the most significant moments in the country's history and means so much to so many people.
The Trophy visited a number of locations in Pretoria, Johannesburg and Cape Town as part of the fifth stop of the Trophy Tour.
A highlights video of the content from the visit can be downloaded here along with other rights free footage.
Rights free images from the visit are available here.
The Trophy Tour, which is being delivered in partnership with Land Rover and DHL – two long supporters of the game and Rugby World Cup 2015 Worldwide Partners – is the first time Rugby's most coveted prize has been showcased around the world, visiting 15 countries over 12 months as part of a celebration of Rugby in the lead up to Rugby World Cup 2015, hosted in England and Cardiff.
The trip kicked off with Rugby World Cup 2007 winner, Gary Botha, returning to his old school, Hoerskool Waterkloof in Pretoria. Supported by former South Africa coach, Ian McIntosh, they helped to inspire 60 budding young players from within the school and from St Peters, Pretoria Technical High School and Elarduspark, as they shared their Rugby knowledge during a coaching clinic. The session finished with the teams playing each other in a round robin tournament, which was won by Hoerskool Waterkloof, before they all spent time with the Trophy that they hope to be able to play for one day. Land Rover supports a number of local schools through its South African dealer network – a total of 31 dealers who support schools within their communities.
A reception at the Trade Commissioner's residence in Johannesburg, hosted by the British High Commission, later welcomed Rugby World Cup 1995 winner, Joel Stransky, Rugby World Cup 2003 winner, Martin Corry, and former England sevens captain, Ollie Phillips, as the Rugby legends entertained guests about their Rugby careers during a Q&A session conducted by SuperSport presenter, Xola Ntshinga.
British High Commissioner to South Africa, Judith Macgregor, said: "It was an honour to welcome the Webb Ellis Cup to South Africa, a country with a rich rugby heritage. The Trophy has a particular resonance in South Africa and particularly Johannesburg, where South Africa won Rugby World Cup 1995 at Ellis Park. We all remember that iconic moment when former President Nelson Mandela, sporting Francois Pienaar's shirt, lifted the Webb Ellis Cup to incredible emotions in a free and democratic South Africa. I look forward to watching South Africa in action 20 years later at Rugby World Cup 2015 in England."
England Rugby 2015 Chief Executive, Debbie Jevans, said: "It is great to see some of the famous faces from past Rugby World Cups supporting the Rugby World Cup Trophy Tour and helping us to make it a celebration of Rugby. As we approach one year to go until the start of Rugby World Cup 2015, we are looking forward to welcoming the South African team to England for their pool matches in Brighton, Birmingham, Newcastle and Newham."
A stellar line up of former South African players and management shared their Rugby World Cup experiences during a Q&A session at a reception hosted at the Kelvin Grove Club in Cape Town. This included Kobus Wiese, Morne du Plessis, Corne Krige and Stefan Terblanche.
The Webb Ellis Cup was given a Royal Navy welcome, joining the crew of HMS Iron Duke as the ship came into dock in Cape Town for an official visit. Martin Corry was joined by members of the ships crew and pupils from locals schools as he paraded the Trophy through the V+A Waterfront to the Springbok Experience. Then it was guest of honour at a special reception hosted by the ships Commanding Officer, Tom Tredray.
Rugby World Cup winners from two generations joined Land Rover on the latest Least Driven Path. Chester Williams and John Smit from the 1995 and 2007 respective Rugby World Cup winning teams accompanied the drive from Cape Town to the remote agricultural community of Protem. On arrival at Protem Primary School the Rugby legends were assisted by Land Rover Ambassador and world-leading referee Craig Joubert and a number of players from The DHL Stormers, the local Super Rugby side, in distributing Rugby balls and goodie bags to the excited children.
Smit, also a Land Rover Ambassador said: "Being reunited with the Webb Ellis Cup has brought back some wonderful memories but more importantly the opportunity to meet – and hopefully inspire – the next generation of South African rugby players has been extremely rewarding, especially in such remote community like Protem where the Trophy has never been before."
Managing Director of Jaguar Land Rover South Africa and sub-Sahara Africa, Richard Gouverneur, added, "It is a huge testament to the passion of the South African people for the game of Rugby that the Webb Ellis Cup has been greeted with such excitement throughout this leg of the Rugby World Cup Trophy Tour. We are delighted to support this much anticipated Trophy Tour and take the Webb Ellis Cup to places it has never been. The partnerships our local dealers have with schools within their communities showcase our dedication to Rugby at all levels. We are looking forward with great anticipation to Rugby World Cup 2015 and of course will be fully behind our national team."
Day three of the visit saw internationally renowned batting king and the world's third highest run scorer in test cricket history, South African cricket legend Jacques Kallis, take on former England captain and Rugby World Cup 2003 winner Martin Corry in DHL's fourth Rugby v the World challenge as part of promoting the sport of Rugby around the world. Torrential rain could not deter the two athletes from battling it out at DHL Newlands Stadium in Cape Town, with the Rugby team from HMS Iron Duke and the DHL Western Province squad watching and cheering on as cricket won the series of three challenges by one point only.
Managing Director of DHL Express Sub Saharan Africa, Charles Brewer, said: "DHL sees tremendous synergies between a sport that is built on honesty, teamwork, passion and a will to win and the values that we strive to bring to life every day for our customers. Rugby, as one of the fastest growing global sports and DHL, as the world's leading logistics company and most international company in the world, make a perfect match, excuse the pun!". Rugby in South Africa is much more than a sport. If you look at some of the iconic moments in South Africa's colourful history, many have revolved around rugby. DHL delivered an unforgettable opportunity for so many deserving fans, Rugby enthusiasts and the South African 'Faithful', a once in a lifetime experience that many will never forget."
The next stop of the Rugby World Cup Trophy Tour will see the Webb Ellis Cup visit Argentina and Uruguay in October. This will include an appearance at the final of the repecharge between Uruguay and Russia to decide who will fill the 20th and final spot at Rugby World Cup 2015.
Published 19 August 2014