World news story
Rugby kit donation arrives at the British Embassy from UK charity
UK charity SOS Kit Aid donates rugby kit to British Embassy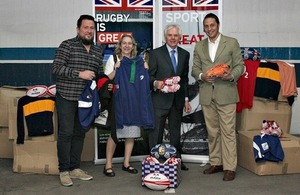 The British Embassy is delighted to welcome the UK charity SOS Kit Aid's 475th delivery worldwide. Thanks to John Broadfoot, founder of the charity, and his team in the UK, children and adults throughout Ecuador will have a greater chance to participate in sporting activities promoted by the British Embassy and the Ecuadorean Rugby Federation (ERF). The ERF intends to further collaboration with the Scouts of Ecuador foundation in order to encourage rugby among the young communities in the country. SOS Kit Aid has kindly donated 40 boxes of rugby kit ranging from balls to tracksuits to boots which will be of considerable help to the ERF, which hopes to be able to fully expand their work and promote rugby more widely.
This donation coincides with the countdown to the Rugby World Cup taking place in the UK in the months of September and October this year. The British Embassy will be supporting an event with the Ecuadorean Rugby Federation which will see local touch rugby teams play, female teams as well as some ex professional rugby players from the region.
Check out the photo gallery of the event in our Flickr account
Sport plays a key role in the work of our diplomatic mission and this charity follows the same belief that sport can transform lives for the better. SOS Kit Aid has managed to save over 200 tonnes of kit and over 1000 tonnes on CO2 emissions through recycling. The British Embassy would like to give a big thank you to the team at SOS Kit Aid for making this donation possible and fully supports the promotion of rugby throughout Ecuador.
Get the latest news in our Twitter account and follow the British Ambassador Patrick Mullee or check out our Facebook page.
Published 15 June 2015