News story
Rugby Business Festival 2015
UK Trade and Investment (UKTI) will run a series of business events across the UK, during the 2015 Rugby World Cup, encouraging businesses to export to participating nations.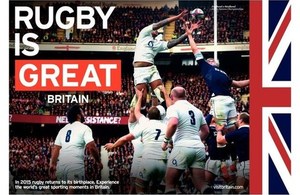 What is the Rugby Business Festival?
The Rugby Business Festival 2015 is taking place from 16 September 2015 to 31 October 2015.
Events at the Festival will aim to show the demand for UK expertise, products and services around the world as well as highlighting the support available for companies who are looking to grow overseas. The events are being run in 8 of the 9 English regions, aligned to the locations of Rugby World Cup fixtures. The Welsh Government will also have a number of business events to tie in with the matches in Cardiff.
By attending, companies can:
meet trade experts from UKTI's offices overseas
receive practical, tailored advice on exporting
learn about business opportunities in other countries
talk to potential overseas buyers
hear from businesses already exporting about their experiences.
Events will be focused on exporting to 12 markets, each of whom are participating in this year's World Cup tournament:
Argentina
Australia
Canada
France
Ireland
Italy
Japan
New Zealand
Romania
South Africa
Uruguay
USA
Business during the Rugby World Cup 2015
The Rugby Business Festival will be launched at the Global Investment Conference on 17th September 2015 – the eve of the first Rugby World Cup 2015 match.
The Rugby World Cup is the third largest sporting event in the world and is expected to add £1 billion to the UK's Gross Domestic Product (GDP). This includes £85 million of infrastructure projects and the support of 41,000 jobs.
The Business Festival will capitalise on the global spotlight on the UK as hosts as well as the huge influx of visitors and senior business people.
With rugby being arguably the UK's most popular export, the Festival will draw on the game's homecoming this year to inspire the next wave of exporters from across the UK.
Published 7 September 2015