Press release
RPA warns on approaching 2014 SPS deadline
Farmers and agents have until 15 May to submit Single Payment Scheme (SPS) 2014 claims.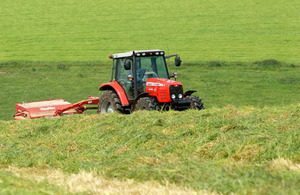 With just two weeks left of the Single Payment Scheme (SPS) 2014 application window, more than 8,000 farmers have moved their businesses into the digital age by applying for their 2014 SPS payment online for the first time.
Since the SPS 2014 application window opened on 20 February, a total of 45,000 applications have already been made online. Of those who have applied, 8,100 are trying the increasingly popular SPS Online service for the first time.
Rural Payments Agency (RPA) Customer Director Justin Chamberlain said:
"This is fantastic news and shows just how many of our farmers, land managers and agents see the business benefits of going online.
"That nearly a fifth of those who have already applied for their payments are new to the system proves that more and more people are realising now is the time to make the shift and get ready for a new age in EU payments ahead of CAP Reform implementation.
"The RPA is one of the leading agencies in delivering online facilities, and has embraced the Government's Digital by Default agenda with a number of schemes.
"These include the highly praised Cattle Tracing System (CTS) Online; popular import recording and checking system PEACH; and SPS Online - now used by the majority of farmers, landowners and agents for SPS applications.
"We are committed to achieving improved value for money and working at maximum efficiency and effectiveness. There will be no let-up in the drive to safeguard customer service and performance while delivering the third year of our Five Year Plan."
All SPS applications, whether online or on paper, must reach the RPA by midnight on 15 May to avoid late application penalties. Once the application has been sent, certain changes can be made by writing to or emailing the Agency. These must be received by midnight on 2 June to avoid penalties.
Applications and changes can be made until midnight on 9 June, however penalties will be applied. Applications received after 9 June will not be accepted.
The RPA has released two short instructional videos about how to register on the Government Gateway and apply using SPS Online, since local drop-in centres are no longer available. The videos are viewable on the RPA website or YouTube. To use the service for the first time, all applicants need to first register on the Government Gateway website.
Background
Single Payment Scheme 2014
More information on the Single Payment Scheme is available on the RPA website.
The RPA's work helps the Department for Environment, Food and Rural Affairs (Defra) to encourage a thriving farming and food sector and strong rural communities.
The RPA makes Common Agricultural Policy (CAP) support payments, traces livestock and carries out inspections. It manages more than 40 schemes, paying farmers and traders more than £2bn each year.
To administer such a wide range of schemes and meet EU requirements, the RPA manages information on more than two million land parcels.
CAP reform from 2015
Defra is developing CAP schemes to reflect the new requirements including those relating to greening, the active farmer test, hill farmers and young farmers and a new online service to help everyone who wants to apply for CAP funds to do so in a quick and simple way.
Defra, working with the RPA, Natural England and the Forestry Commission, is determined to implement the CAP in a way that is as simple, affordable and effective as possible.
At each step of the countdown, information will be made available to help people understand how the new CAP will affect them, what they need to do, and by when, to move as smoothly as possible to the new schemes and online service.
We will keep up-to-date information on CAP reform available through the GOV.UK website.
Published 29 April 2014