Press release
RPA supporting farmers at North Somerset Show
The Rural Payments Agency will attend the North Somerset Show and show farmers how to apply for the Single Payment Scheme online.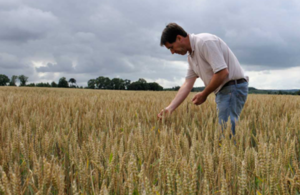 The Rural Payments Agency (RPA) is to attend the North Somerset Show at Bathing Pond Fields, Wraxall on 5 May, to show Somerset farmers how to apply for their 2014 Single Payment Scheme (SPS) payment online.
The Agency will be promoting its increasingly popular SPS Online service at the show, helping farmers and agents apply for vital European agricultural support payments.
The service is an easy, digital way of applying for the payments. It removes the need to complete paper forms, increases security, minimises the chance of errors, and gives an instant receipt and follow-up email confirming the claim for peace of mind.
The Agency will have a manned stand at the show, where representatives will be on hand to talk farmers through using the service and answer questions they may have.
RPA Information and Technology Director Ed Schofield said the show was an important opportunity for claimants to see how easy SPS Online is to use. He added:
"Last year 14,000 claimants made the switch to digital, and we urge those farmers who haven't yet sampled SPS Online's benefits to give the service a go this year, before any CAP Reform changes come into effect in 2015.
"The show is a great chance to demonstrate SPS Online to farmers and agents who haven't had a chance to see what 55,000 others are already using.
"Last year more farmers and agents used SPS Online than applied on paper, reaping the benefits of added security, built-in checks and an instant receipt and confirmation email of their application."
All SPS applications, whether online or on paper, must reach the RPA by midnight on 15 May to avoid late application penalties. Once the application has been sent, certain changes can be made by writing to or emailing the Agency. These must be received by midnight on 2 June to avoid penalties.
Applications and changes can be made until midnight on 9 June, however penalties will be applied. Applications received after 9 June will not be accepted.
Background
Single Payment Scheme 2014
More information on the Single Payment Scheme is available on the RPA website.
The RPA's work helps the Department for Environment, Food and Rural Affairs (Defra) to encourage a thriving farming and food sector and strong rural communities.
The RPA makes Common Agricultural Policy (CAP) support payments, traces livestock and carries out inspections. It manages more than 40 schemes, paying farmers and traders more than £2bn each year.
To administer such a wide range of schemes and meet EU requirements, the RPA manages information on more than two million land parcels.
CAP reform from 2015
Defra is developing CAP schemes to reflect the new requirements including those relating to greening, the active farmer test, hill farmers and young farmers and a new online service to help everyone who wants to apply for CAP funds to do so in a quick and simple way.
Defra, working with the RPA, Natural England and the Forestry Commission, is determined to implement the CAP in a way that is as simple, affordable and effective as possible.
At each step of the countdown, information will be made available to help people understand how the new CAP will affect them, what they need to do, and by when, to move as smoothly as possible to the new schemes and online service.
We will keep up-to-date information on CAP reform available through the GOV.UK website.
Published 29 April 2014