Royal visitors to thank British volunteers
Their Royal Highnesses the Prince of Wales and Duchess of Cornwall will meet and thank volunteers who help British residents in Spain on the first day of their official visit to Spain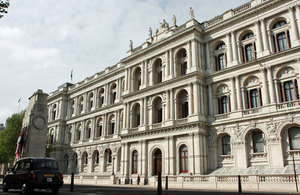 Their Royal Highnesses the Prince of Wales and Duchess of Cornwall will today begin a three-day official visit to Spain. Their official hosts are the Prince and the Princess of Asturias.
High on a busy programme of events will be a reception at HM Ambassador's Residence in Madrid, where the Royal couple will meet and thank some 300 representatives of the many thousands of Spanish and British volunteers who help to improve the lives of some of the most vulnerable British residents in Spain.
An estimated one million British citizens live in Spain for part or all of the year, and inevitably some of them face increasing financial and health problems. As well as the British Consulates in Spain, the British community is heavily dependent on a network of volunteer organisations to provide self-help.
Among the many volunteer organisations attending the reception will be Age Concern Accion Social , Age UK and The Royal British Legion, as well as representatives of Spanish local and regional authorities.
HM Ambassador Giles Paxman said: "I am delighted that the Prince of Wales and Duchess of Cornwall are taking the opportunity to thank the many volunteers who selflessly give up their own time to improve the lives of others less fortunate than themselves.
"Although it is impossible for the Royal couple to meet everybody, their presence is a tribute to each and every person who helps our British residents.
"I want to add my own heartfelt thanks to all the volunteers. Their kindness and care is hugely valued and appreciated, and makes a big difference to many people's lives."
The Duchess of Cornwall will also be meeting leaders of the Barcelona group of Maggie's Cancer Caring Centres, of which she is Patron. Maggie's is aiming to develop its first care centre outside the UK, and the meeting is an opportunity to raise the profile of the project.
Promotion of trade and investment between the UK and Spain will be a high priority for the three-day visit. The Prince of Wales will meet business leaders in Madrid and Seville, at receptions organised by UK Trade & Investment, to get across the message that Britain is 'open for business', and that the UK is extending open arms to Spanish companies that want to invest in Britain, helping to create jobs and stimulate economic growth.
Many Spanish companies already have a major presence in the UK including Santander bank, Iberdrola (owner of Scottish Power), Telefonica (owner of O2), and Ferrovial (owner of Heathrow and five other airports). Spanish airline Iberia has recently merged with British Airways under the umbrella of the International Airlines Group.
Published 30 March 2011